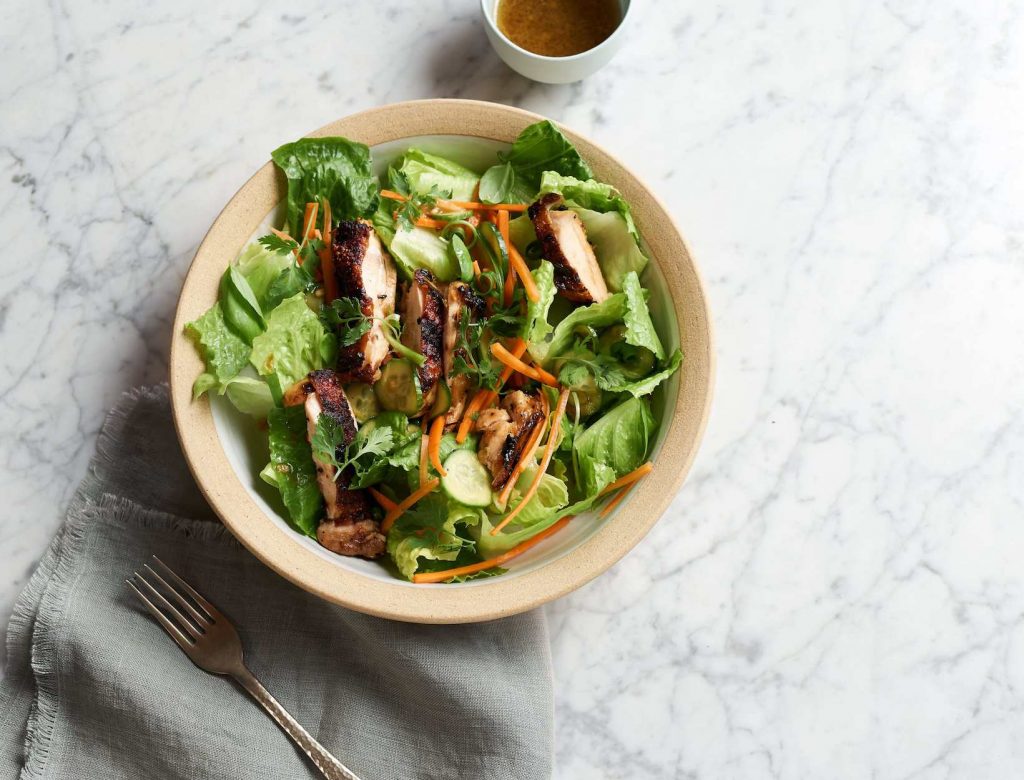 Lemongrass Chicken Banh Mi Salad
This is a detox-friendly version of one of our favorites, a Vietnamese banh mi sandwich.
for the chicken:
2 (or more) thin slices Serrano chili
1 stalk lemongrass, smashed and cut into ½ inch pieces
1 scallion, roughly chopped
1 teaspoon coconut sugar
2 tablespoons wheat-free tamari
zest of 1 small lime
1 1½-inch piece ginger, peeled and roughly chopped
1 clove garlic, peeled and smashed
½ pound chicken thighs
for the quick pickles:
2 teaspoons coconut sugar
juice of ½ lime
2 teaspoons rice vinegar
⅓ cup grated carrot
½ Serrano chili, thinly sliced
⅓ cup sliced cucumber
for the salad dressing:
2 teaspoons coconut sugar
1 teaspoon white miso
juice of ½ lime
1 tablespoon rice wine vinegar
3 tablespoons grape-seed (or other neutral) oil
1 teaspoon sesame oil
for the salad:
2 handfuls chopped romaine
1 scallion, thinly sliced
1 small handful basil, roughly chopped
1 small handful cilantro, roughly chopped
1. To marinate the chicken, combine the first 8 ingredients in a blender or food processor and blend for about a minute; it won't be a perfectly smooth paste. Add this to a nonreactive bowl with the chicken thighs, mix well, cover, and either leave at room temperature for 30 minutes or place in the fridge for up to 24 hours.
2. For the quick pickles, whisk together the coconut sugar, lime juice, and rice vinegar in a bowl. Add the grated carrot, sliced cucumber, and Serrano chili. Let sit for at least 10 minutes or refrigerate overnight.
3. For the dressing, whisk together the coconut sugar, miso, lime, and rice wine vinegar in a small bowl. Slowly whisk in grape-seed and sesame oils.
4. To cook the chicken, heat a grill pan over medium-high heat. Try to wipe the excess marinade off the chicken thighs, then grill for about 5 minutes on each side, depending on thickness.
5. In a large bowl, toss the romaine, scallions, and most of the basil and cilantro with enough dressing to coat everything.
6. Top with grilled chicken, quick pickles, and remaining herbs.
Originally featured in The Annual goop Detox