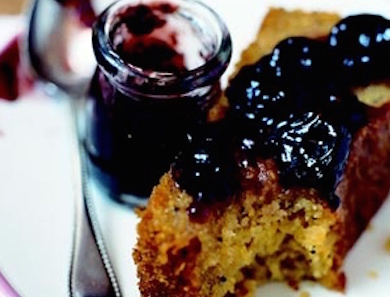 This recipe comes to us from Erin McKenna, of the genius vegan bakery, Babycakes.
1. Preheat the oven to 325°F. Lightly grease a 7 × 4 × 3-inch loaf pan with oil.
2. Pour the rice milk, apple cider vinegar, and poppy seeds into a small bowl – but do not stir – and set aside. In a medium bowl, whisk together the flour, baking powder, xanthan gum, and salt. Add the oil, agave nectar, applesauce, vanilla, and lemon to the dry ingredients and stir until the batter is smooth. Using a rubber spatula, scrape the poppy seed mixture into the batter, and combine just until all ingredients are blended. The batter will expand slightly.
3. Pour the batter into the prepared pan and bake on the center rack for 35 minutes, rotating the pan 180 degrees after 18 minutes. The teacake will be golden brown and springy, and a toothpick inserted in the center will come out clean.
4. Let the teacake stand in the pan for 20 minutes, then gently run a knife around the edge of the bread. Cover the top of the pan with a cutting board, and invert onto the board. Carefully lift the pan away and re-invert the teacake onto another cutting board. Either cut and serve warm, or wait until it is completely cool before storing. Cover the uncut teacake with plastic wrap and store at room temperature for up to 3 days.
Originally featured in Babycakes