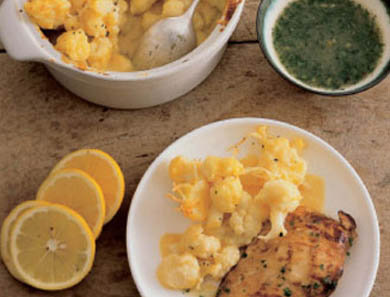 Lemon Chicken with Cauliflower
This makes for a simple, nutritious and very tasty weekday meal for the family. We love the tang of the lemon and the soft cauliflower.
1. In a heavy-bottomed saucepan over medium heat, sauté the chopped garlic in 1 teaspoon of the olive oil until it begins to turn golden brown. Add the chicken broth, turn the heat to high, and reduce by half, about 8 minutes. Add the lemon juice.
2. In a small bowl, combine the water and cornstarch. Slowly stir the cornstarch mixture into the boiling chicken broth. The mixture will thicken quickly. Add the cauliflower puree. Sprinkle in parsley, if desired. Cover to keep warm and set aside.
3. Meanwhile, begin heating the remaining 2 tablespoons of olive oil in a large heavy-bottomed skillet over medium heat. Whisk the egg whites and egg in a shallow bowl. Combine the flour, salt, and garlic powder on a large plate. Dredge each chicken cutlet in the seasoned flour and then dip in the egg mixture. Drop the cutlets directly into the heated skillet. Sauté 4 to 5 minutes per side, until the chicken is golden brown and cooked through. Add the lemon sauce and cook 2 to 3 minutes more to combine flavors. Serve.
Contributed by doitdelicious.
Originally featured in Do it Delicious with Jessica Seinfeld