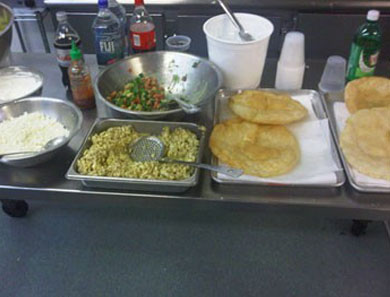 Fish cooked down with an amazing special sauce, along with fresh tortillas and guac, make these tacos rock. They're great for a crowd.
1. Combine the cilantro, lime juice, 1/3 cup olive oil, onion, garlic, chili, garlic powder, cumin and paprika together in a blender with a large pinch of salt and puree until thoroughly combined and smooth. Set the mixture aside.
2. Heat the remaining 2 tablespoons of olive oil over medium-high heat in a large pot and add the halibut. Cook, stirring now and then, until golden brown, about 8 minutes.
3. Add the white wine and cook until nearly evaporated, about 2 minutes.
4. Pour over the reserved cilantro mixture, stir gently just to combine and cook for just another minute to let all the flavors say hello.
5. Serve immediately with deep-fried flour tortillas, crema fresca (or sour cream), cotija cheese, and a fresh pico de gallo with chunks of avocado (mix equal parts diced tomatoes and avocado and then season with salt, pepper, fresh cilantro, lime and diced red onion).
Recipe courtsey of Lee at Creative Edge Parties, who made us this amazing "family meal" during the My Father's Daughter launch dinner.
Originally featured in My Father's Daughter