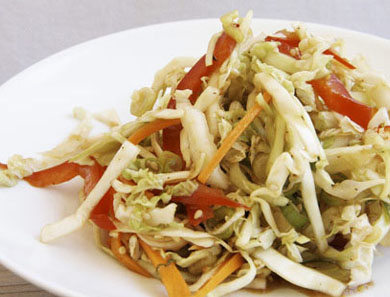 Lee's Slaw
My dear friend, Lee, made this recently and served it with a chicken wrap—a great summer lunch, full of crunch and flavor.
1 small clove of garlic, peeled and finely grated
one 1″ – piece of ginger, peeled and finely grated
1/4 cup rice wine vinegar
2 tablespoons soy sauce
1 tablespoon light agave nectar
1/2 teaspoon spicy toasted sesame oil (or more or less to taste)
freshly ground black pepper
coarse salt
2 cups finely shredded Napa cabbage
2 cups finely shredded green cabbage
1 carrot, peeled and cut into thin matchsticks
1/2 red bell pepper, cut into thin matchsticks
4 scallions, thinly sliced
2 teaspoons toasted sesame seeds
Whisk the garlic, ginger and rice wine vinegar together in a bowl and let the mixture sit for 5-10 minutes. This is a good time to cut up your vegetables if you haven't already. Whisk the soy sauce, agave and sesame oil into the vinegar mixture and season to taste with salt and pepper. Combine the cabbages, carrot, pepper and scallions together in a large bowl and toss with the dressing at the last minute, sprinkling the seeds on top.
Originally featured in Summer Salads