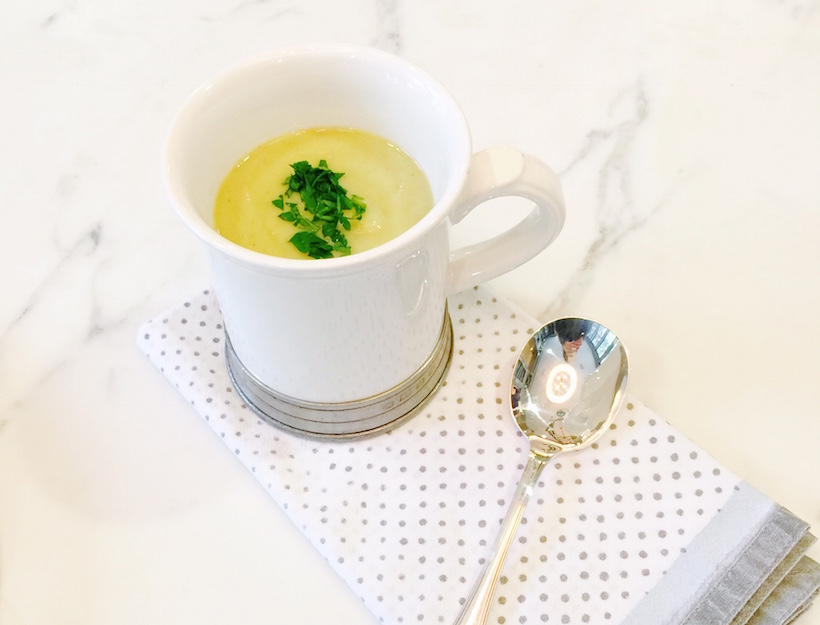 Leek and Celery Root Soup
Celery root replaces potatoes in our detox version of vichyssoise (but any root vegetable will do). This simple soup can easily be made vegan with vegetable stock.
2 medium leeks, white and light green part only
2 tablespoons olive oil
salt
3 garlic cloves
1 teaspoon thyme leaves
1 medium piece celery root, peeled and cut into 1 inch pieces (about 1 pound)
2 ½ cups chicken (or vegetable) stock
1 ½ teaspoons lemon juice
1. Cut the leeks in half, and rinse very well, then cut into 1/3 inch slices. Sauté leeks in olive oil with a pinch of salt for about 10 minutes, until tender but not browned. Add garlic and thyme, and sauté 3 more minutes.
2. Add celery root, a pinch of salt, and a generous grinding of black pepper.
3. Add the chicken stock, bring to a boil, then reduce the heat to a simmer. Cover and cook for 20 minutes, or until the celery root can be easily pierced with a knife.
4. Blend in a powerful blender until very smooth.
5. Add lemon juice and taste for seasoning.
Originally featured in The Annual goop Detox