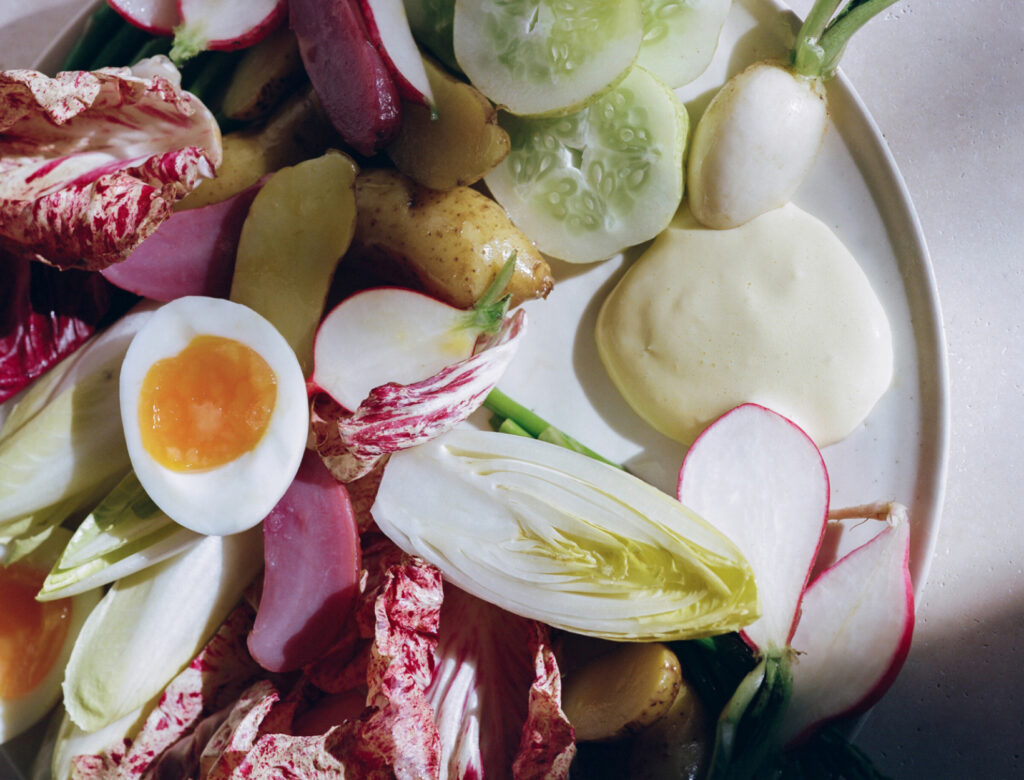 Photos courtesy of Nastassia Bruckin, © Le Marké
Le Grand Aioli
"This platter revolves around the sauce: the aioli in this case, which we've made with our rich and fruity olive oil for an extra layer of flavor. You can use a myriad of market vegetables and bright colors." —Mordechai
For the olive oil aioli:
1 or 2 cloves garlic
1 egg yolk and 1 egg
1 generous pinch salt, plus more to taste
¾ cup olive oil
1 tablespoon lemon juice
For the platter:
1 pound baby potatoes
¼ pound asparagus or wax beans
6 eggs
1 cup olives
6 radishes, halved
½ head lettuce (radicchio or endive)
1. Make the aioli: Combine the garlic, egg yolk and egg, and salt in a blender or food processor and process until smooth, about 30 seconds. With the motor running, add the oil in a slow, steady stream. Add the lemon juice at the very end and add more salt as needed.
2. Boil the baby potatoes until tender. Quickly blanch the asparagus or wax beans. Boil the eggs for 7 minutes and slice in half.
3. Arrange the soft-boiled eggs, potatoes, asparagus or wax beans, olives, and radishes with radicchio, endive, or another seasonal lettuce on a platter. Serve with a generous bowl of the olive oil aioli for dipping.
Originally featured in A Dinner Menu for the Olive-Oil-Obsessed