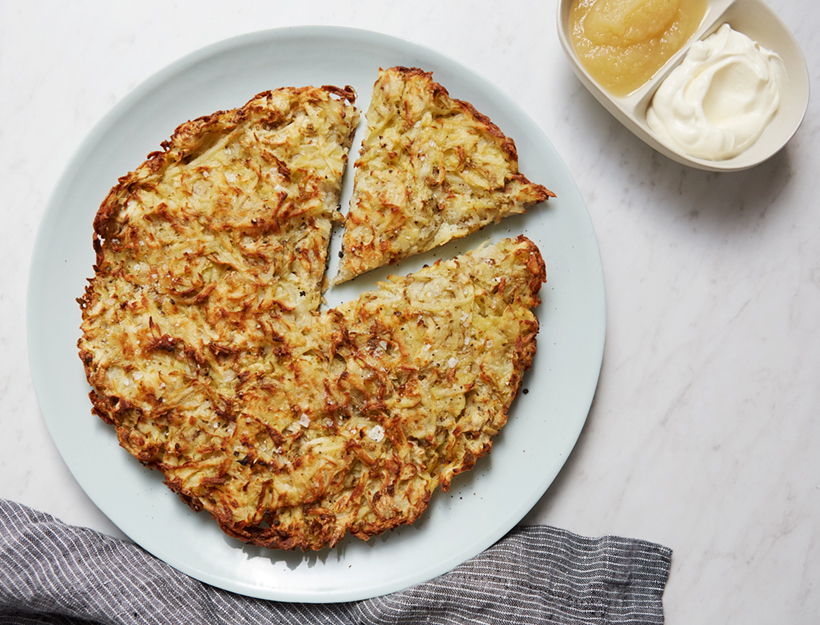 Everyone loves latkes, but since we've yet to meet someone who loves standing over the stove frying them all day, this is an easier option.
1. Preheat the oven to 400°F.
2. Scrub the potatoes very well with a brush to clean off any dirt and rough skin (if you want, feel free to peel them at this point).
3. Use the largest holes on a box grater to grate the potatoes into a large bowl and cover with cold water.
4. Finely dice the onion and place in another large bowl.
5. Drain the potatoes, then use your hands (or some cheesecloth or a dish towel) to squeeze out as much liquid as possible and add to the bowl with the onion.
5. Combine salt, gluten-free flour, and baking powder in a small bowl.
6. Add the egg to the potato-and-onion mixture and stir with a rubber spatula to mix evenly. Add the dry ingredients to the bowl and mix to combine.
7. Heat a 10-inch nonstick pan (we like a well-seasoned cast-iron pan or a GreenPan) over medium heat and coat with a thin layer of olive oil (2 to 3 tablespoons). When the oil is hot, add the potato mixture to the pan and use your spatula to spread it around in an even layer. Don't press the pancake too much and be sure to leave some textured, scraggly bits on the top, as they brown better. Drizzle another 2 tablespoons of oil evenly over the top of the pancake.
8. Cook the latke over medium-high heat for 5 minutes, drizzle the top with another 2 tablespoons of olive oil and transfer the pan to the preheated oven. Cook for 15 minutes.
9. Turn on the broiler and broil the top of the latke for 5 to 10 minutes, depending on how hot your broiler is. You want the top to be a beautiful golden brown.
10. Remove the pan from the oven and transfer the pancake to a cooling rack. Cut into wedges and eat immediately or serve at room temperature.
Originally featured in A Holiday Meal, Three Ways: Allergen-Free, Kid-Friendly, and Dinner for Two