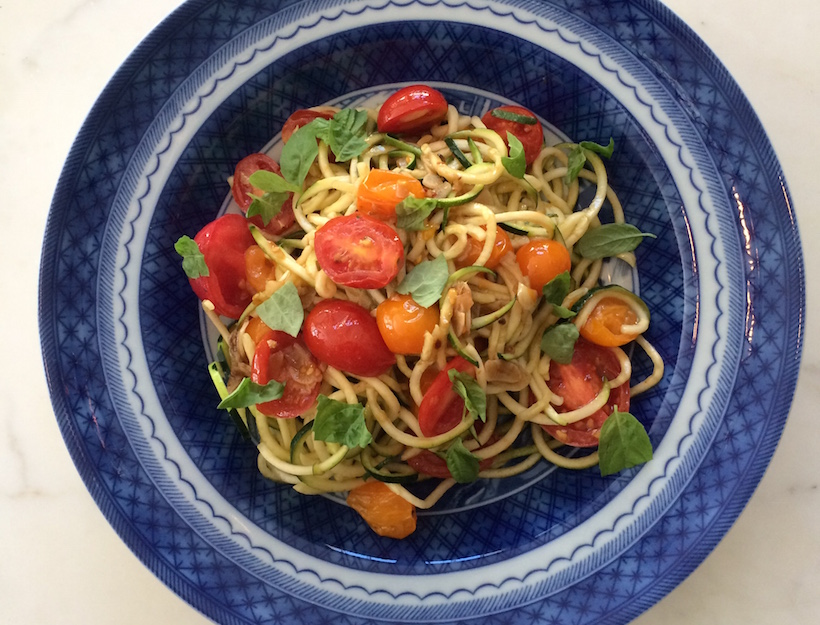 Late Summer "Zoodles" with Cherry Tomatoes
This dish makes us feel virtuous without sacrificing any flavor, plus it's the perfect vehicle for all the insanely sweet cherry tomatoes in season right now. Great as a side or main, it also scales well for a crowd.
1 medium zucchini
2 tablespoon olive oil
2 anchovies
2 garlic cloves
pinch chili flakes
12 cherry tomatoes, cut in half
salt and pepper to taste
basil, for garnish
1. Use a spiralizer to make zucchini "noodles."
2. Meanwhile, heat olive oil and anchovies in a 12-inch sauté pan over medium heat, stirring with a wooden spoon, until anchovies have melted.
3. Add garlic and chili flake and cook for 1 minute, or until garlic is fragrant but not burned.
4. Add cherry tomatoes, turn up the heat to high, and cook, stirring occasionally, for about 3 minutes.
5. Add zucchini noodles, tossing with all the ingredients, and cook until "zoodles" are just warmed through, about 1 minute.
6. Season with salt and pepper to taste and garnish with torn basil leaves.
Originally featured in More Spiralizing Magic: Late Summer Zoodles