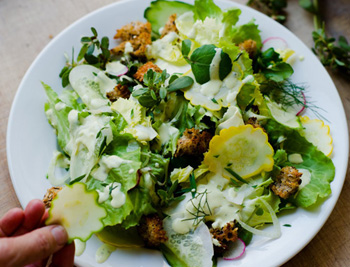 Late Summer Chicory Salad with Seeded Whole-Wheat Croutons
Relishing the final tastes of summer, this mélange of leaves is complimented by the crunch of the seeded croutons and a tangy dressing.
1. Cook watercress in a small saucepan of salted boiling water for 30 seconds. Drain and rinse the watercress in cold water. Squeeze out excess water.
2. Put all of the dressing ingredients in a blender and process until smooth. If the dressing needs to be thinner, add a little bit of water and stir in until it is thin enough to drizzle on the salad. Adjust seasoning if necessary.
3. Toss all of the salad greens, shaved vegetables, herbs, and croutons together, plate, and drizzle with the dressing.
Contributed by Chad Robertson, author of Tartine Bread.
Originally featured in Tartine