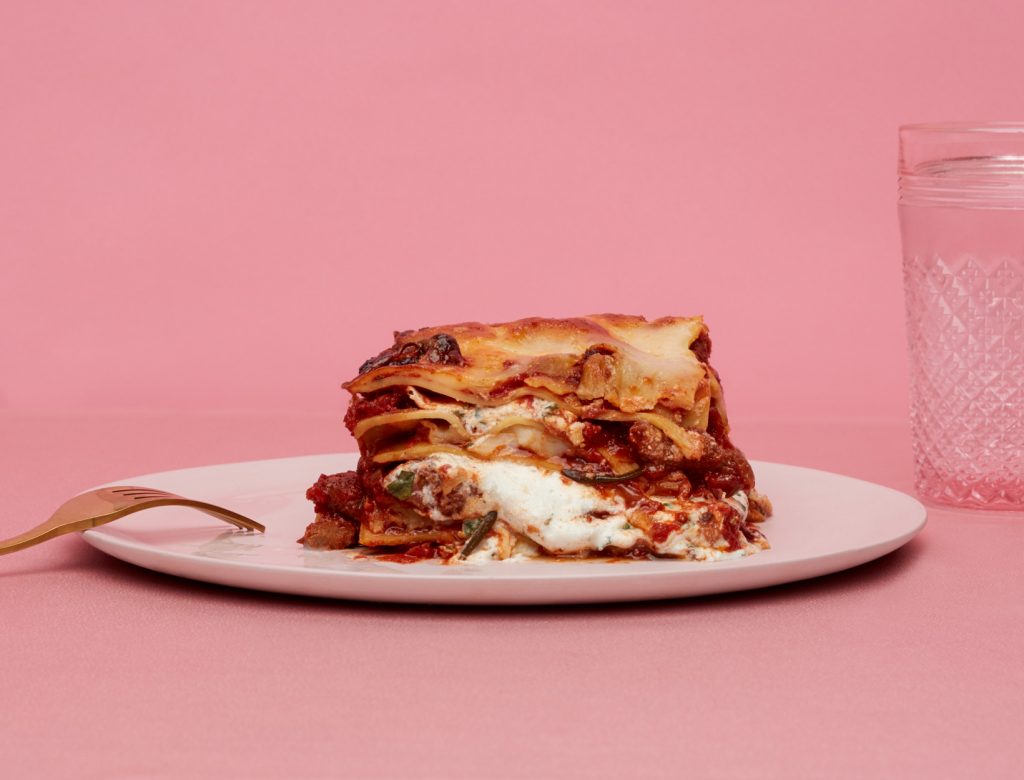 Lasagna with Sausage Ragu
Do yourself a favor and make this lasagna: It's no small feat, but it's well worth the effort—and a lot can be done in advance so that the day of, all you have to do is assemble and bake. You and your guests will be super satisfied with this rich, comforting dish, so all you'll need is a green salad to round out your meal.
1. First make the ragu. In a large Dutch oven, heat the olive oil over medium-high heat. Add the sausage, crumbling it with a wooden spoon as it cooks. Cook for 8 minutes or so, until nicely brown and crumbled. Remove the turkey with a slotted spoon and set it aside, leaving any rendered fat behind in the pan, and add the onion, garlic, and fennel seeds and cook for another 5 to 8 minutes over medium heat until starting to caramelize. Add the tomato paste and cook for another minute or so. Deglaze with the wine and simmer for a few more minutes, until the alcohol is cooked out.
2. Once that has reduced a bit, add the crushed tomato and reserved browned sausage and rosemary sprigs. Stir well to combine everything. Reduce the heat to low and cook for about 2 hours, stirring occasionally to prevent any burning at the bottom. It should be nicely thickened when done. Allow to cool before assembling the lasagna.
3. While the ragu cooks, combine the ricotta, Parmesan, basil, salt, and pepper. Set aside.
4. Preheat the oven to 350°F.
5. In a large lasagna pan (we used a 9×13-inch casserole dish), spread about a heaping ½ cup of ragu on the bottom. Layer on some cooked noodles, trimming them to size as needed. Spread on another layer of ragu and top that with a layer of the ricotta mixture, then top that with another noodle layer. That gets topped with ragu and shredded mozzarella. Continue the pattern of noodle-ragu-ricotta-noodle-ragu-mozzarella until you've filled the pan. For the final layer, top the noodle with ragu, mozzarella, and a generous sprinkling of Parmesan.
6. Bake for 45 minutes to an hour. Let stand for about 30 minutes before serving.
Originally featured in Everything You Need to Host a Galentine's Day Party