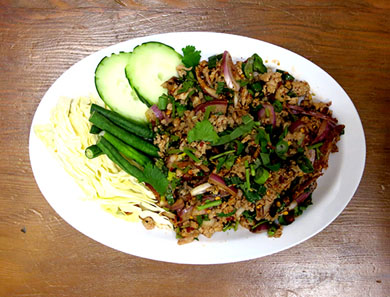 Larb Gai
Contributed by Chef Kris Yenbamroong of LA's Night + Market.
6 oz. minced dark meat chicken
1 oz. shallots, diced
1 oz. cilantro, coarsely-chopped
1 oz. green onion (white parts included), coarsely-chopped
5-6 mint leaves
1 teaspoon white sugar
1 1/2 tablespoon fish sauce
1 1/4 tablespoon lime juice
1 tablespoon Roasted Rice Powder (recipe below*)
1/2 tablespoon red chili powder
1 wedge raw cabbage
a few cucumber slices
2 oz. long beans, cut into 3″ segments
1. Cook the chicken in a small saucepan with boiling water or stock. Stir to make sure the chicken doesn't clump together. Drain off the water.
2. Add the sugar and fish sauce. Stir thoroughly. Add the chili powder, shallots, green onion, cilantro, and mint. Stir. Add the lime juice, and stir.
3. Lastly, sprinkle the rice powder evenly over the larb and stir to incorporate. We use the rice powder for texture. Serve with raw cabbage, cucumber slices, and long beans.
*Roasted Rice Powder
"This stuff is essential in my kitchen—secret weapon status. I use it to lend texture to salads. Pour a few cups of uncooked white sticky rice along with a couple of kaffir lime leaves and shards of lemongrass into a wok or pan set over low heat. (If you can't find the lime leaves or lemongrass, just use the rice. It won't be as fragrant, but it'll work just the same.) Stir regularly as it starts to gain color until the rice is cooked. You'll know it's done when it's golden and nutty-earthy-smelling. Once cooled, pick out the lemongrass and lime leaves and run the rice through a spice mill until you get the consistency of table salt. You don't want it too fine. Keep it in a mason jar for weeks, if not more."
Originally featured in Some Hits From Night + Market