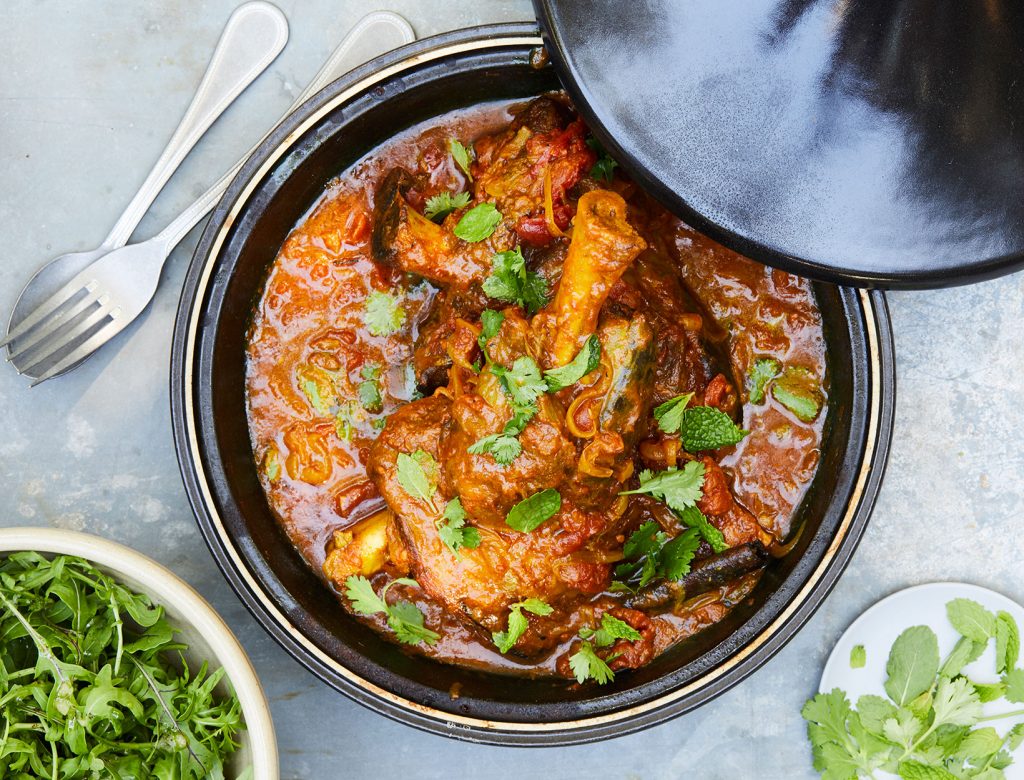 Lamb Tagine with Tomatoes, Saffron, and Cinnamon
This aromatic dish will be the star of your dinner party. We love using lamb shanks because the bones lend so much depth of flavor to the sauce, but if you can't find them, you can use lamb stew meat. Just cook it low and slow so the meat becomes tender and the flavors of the sauce meld to become super concentrated.
2 lamb shanks (approximately 2 pounds)
1 onion, thinly sliced
2 cloves garlic, grated
½ teaspoon grated ginger
1 teaspoon turmeric
½ teaspoon cumin
½ teaspoon ground coriander
2 tablespoons olive oil
1 small stick cinnamon
1 small pinch saffron (optional)
1 16-ounce can tomatoes
cilantro, mint, dill, lemon wedges, and plain yogurt, to serve
1. Preheat the oven to 300°F.
2. Season the lamb shanks generously with salt.
3. Sear the shanks in the tagine over medium-high heat for a few minutes on each side until browned all over. Remove from the tagine and set aside.
4. Reduce heat to medium, add olive oil to the tagine, and then add the onions, stirring and scraping up the browned bits from the lamb at the bottom of the tagine. Cook for a few minutes until soft.
5. Add the garlic, ginger, spices, and a large pinch of salt, combine well, and cook for a few minutes until fragrant and caramelized. Add the cinnamon stick, saffron, and canned tomatoes and let cook for a few minutes. Then add the lamb shanks back to the tagine. Cover the tagine with its lid and roast in the oven for 3 to 4 hours, or until the lamb is falling off the bone.
6. Finish with lots of fresh herbs, a squeeze of lemon, and a dollop of yogurt.