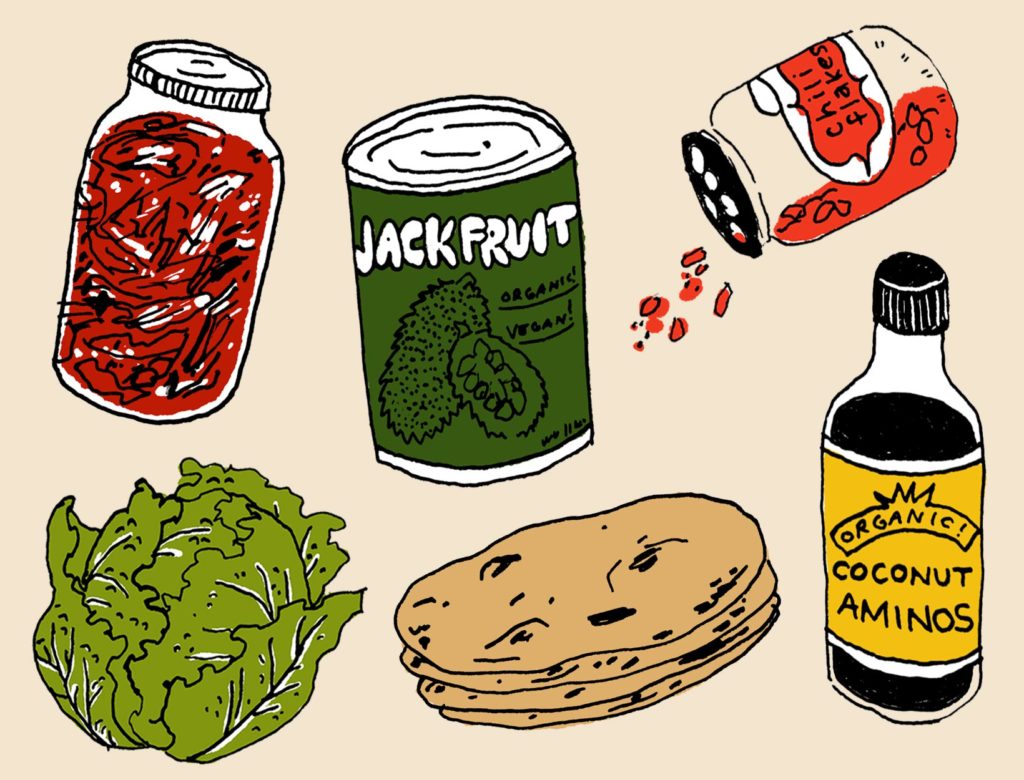 Korean Jackfruit Tacos
Jackfruit seems to be the plant-based stand-in for everything from tuna salad to pulled pork these days, so we decided to play around with it and came up with this riff on our shredded Korean chicken tacos. The trick is to slowly simmer the jackfruit in a deep, flavorful sauce, almost like a braise.
olive oil
½ large yellow onion
1 16-ounce can jackfruit, drained
salt
1 tablespoon date nectar or coconut nectar
¼ cup coconut aminos
½ teaspoon sesame oil
1 teaspoon gochugaru (Korean chili flakes)
2 cloves garlic, grated
1 teaspoon ginger, grated
1 cup water
For the kimchi cabbage slaw:
1 cup shredded red cabbage
1 cup coarsely chopped vegan kimchi
2 tablespoons fabanaise or soy-free vegenaise
to assemble:
4 grain-free tortillas
cilantro
1. Heat a few glugs of olive oil in a skillet over medium-high heat. Add the onion, jackfruit, and a pinch of salt and sauté them for 5 to 10 minutes, stirring occasionally, just until they begin to brown. While they cook, whisk together the next 7 ingredients in a bowl and add to the onion-jackfruit mixture. Reduce the heat to medium-low and let simmer for 30 minutes.
2. While that cooks, make the slaw. Simply add the cabbage, kimchi, and fabanaise or soy-free vegenaise to a bowl and toss well to combine. Add a little juice from the kimchi jar if your slaw needs more dressing. Set aside.
3. After about 30 minutes, the onions and jackfruit should be tender and the sauce should be slightly reduced. With the back of a wooden spoon, press on the jackfruit—it should separate into nice shredded pieces (you can also use a potato masher).
4. Once you've warmed the tortillas in a skillet (or—quickly—over an open flame), you're ready to assemble. Add the jackfruit mixture to the tortilla and top with the kimchi slaw and lots of fresh cilantro.
Originally featured in Reset with a 3-Day Plant-Based Meal Plan