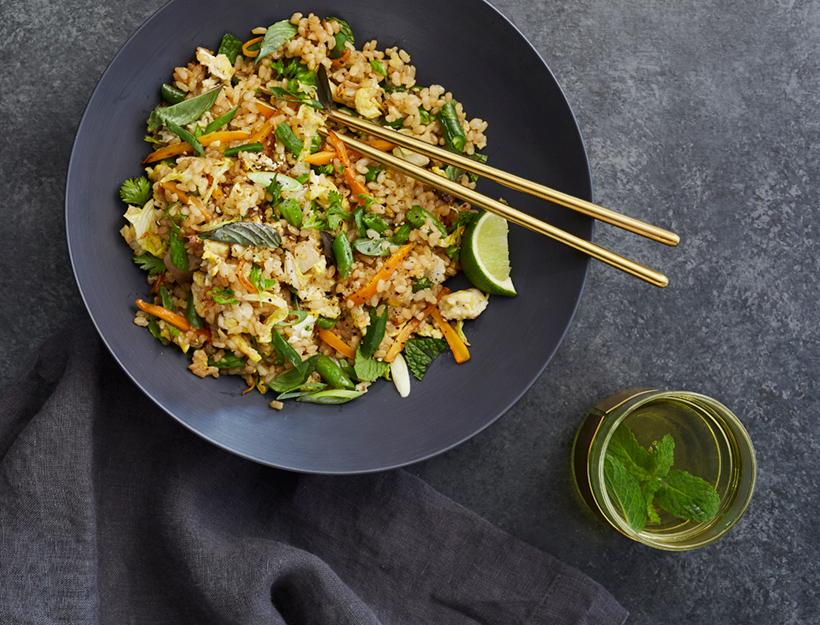 Kitchen-Sink Thai Fried Rice
A perfect Friday night meal, you can throw "everything but the kitchen sink" (meaning whatever leftover veggies you happen to have in the fridge) into this fried rice and it will taste awesome.
1. Heat 1 tablespoon of the oil in a wok or 12-inch nonstick sauté pan over medium heat. Add the egg and a pinch of salt, and scramble the egg until just cooked but still soft. Transfer to your serving dish.
2. Add another tablespoon of oil to the pan, turn the heat to medium-high, and sauté the veggies until just cooked through (this will vary depending on the type and size of veggies). Transfer to the dish with the scrambled egg.
3. Pour in the last tablespoon of olive oil and add the rice, cooking over medium-high heat for 1 minute, or until starting to brown and sizzle.
4. Add the ginger and garlic and cook 30 seconds, stirring constantly.
5. Add back in the egg and veggies and pour in the fish sauce and coconut aminos. Cook for 30 seconds just to combine all of the ingredients and flavors.
6. Mix in the scallion and fresh herbs and serve with a wedge of lime.
Originally featured in The Annual goop Detox 2017