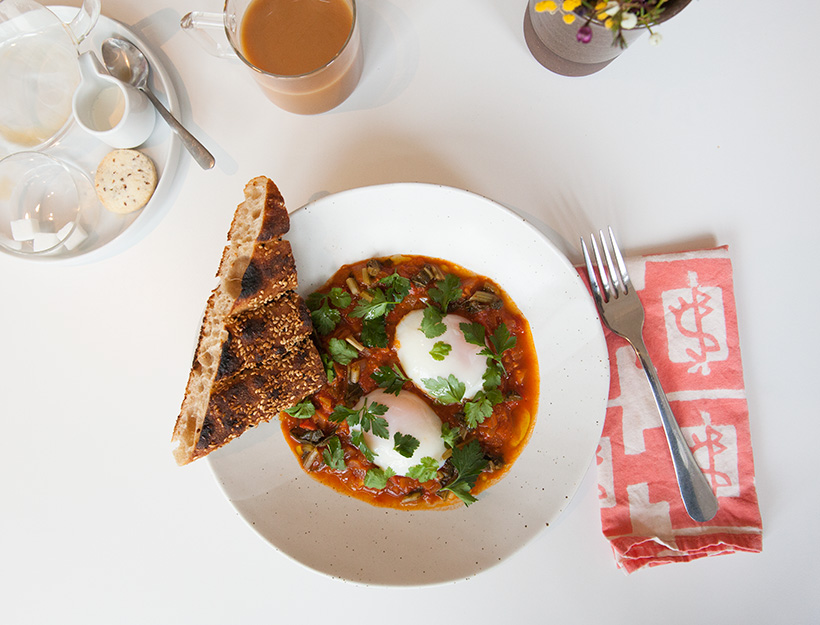 Kismet's Shakshuka
Perfect for breakfast, lunch, or dinner, this Middle Eastern egg dish is always a crowd-pleaser. At the restaurant, they use an immersion circulator to soft-boil large batches of eggs at a time, but for this home cook's version, you simply poach the eggs right in the flavorful tomato sauce.
2 tablespoons olive oil
1 teaspoon ground cumin
¼ teaspoon ground coriander
½ teaspoon Aleppo pepper
½ teaspoon sweet Spanish paprika
½ medium yellow onion, diced
3 garlic cloves, minced
2 tablespoons tomato paste
½ green bell pepper, cut into a small dice
1 red bell pepper, cut into a small dice
½ teaspoon finely minced Serrano chili (about ¼ of one)
2 cups diced tomatoes (about 3 small-medium vine-ripened)
salt, to taste
4 eggs
2 tablespoons fresh cilantro and parsley leaves
1. Heat the oil in a medium sauté or frying pan (choose one with a lid if you have one) over medium heat. Add the cumin, coriander, Aleppo pepper, and paprika, toasting until fragrant, about 30 seconds. Add the onion and cook for 5-10 minutes, or until tender and just starting to brown. Add the garlic, cook for 30 seconds, then add the tomato paste and cook for 1 minute, stirring to distribute it evenly around the pan.
2. Add the peppers. Sweat for 5-10 more minutes, until they begin to soften.
3. Add the diced tomatoes, and cook for a few minutes, stirring often, until they start to break down.
4. Turn the heat to low and simmer for 20 minutes, adding water as needed to keep a nice, sauce-y consistency (out of season tomatoes tend to be less juicy). Season to taste with salt.
5. With the shakshuka set to medium high heat, make four wells (or indentations) in the stew and crack the eggs into them. Cover and let the eggs cook undisturbed for about 5 minutes (or until cooked to desired doneness).
6. Top with herbs and serve immediately with toasty bread.
Originally featured in It's Kismet: A Home-Cooked Shakshuka Recipe In Time for the Weekend