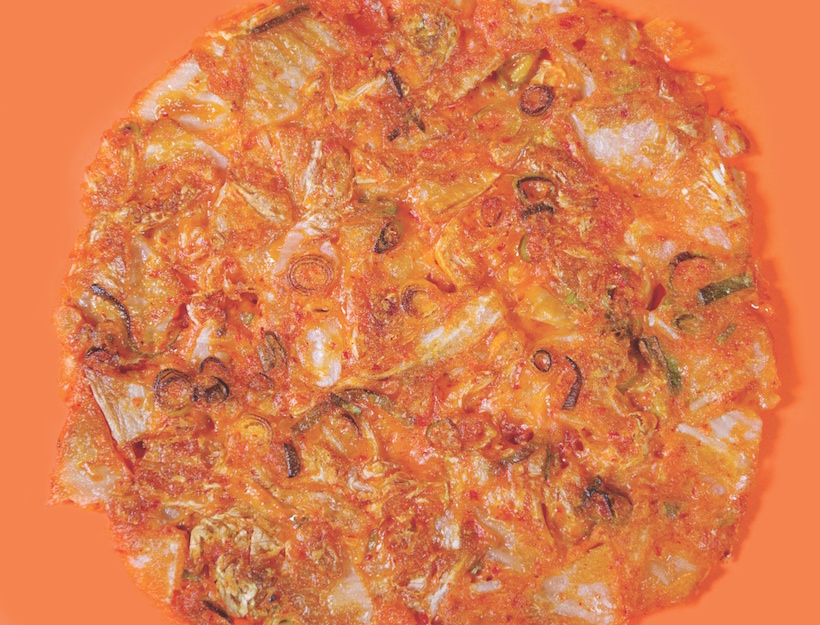 This might be the best kimchi pancake we've ever had—and it's stupid easy to make.
1. Squeeze the kimchi over a bowl to release as much liquid as possible. Top up this liquid with juice from the jar to measure about 1/2 cup. If you don't have enough juice, add cold water. Roughly chop the kimchi.
2. Whisk together the kimchi juice, flours, and salt. ]Let stand a couple minutes until slightly thickened. Fold in the kimchi and scallions and let stand a few more minutes until the batter is cohesive.
3. Heat 1 tablespoon oil in a 10-inch skillet over medium-high heat. Dump the batter into the pan and use a spatula to quickly flatten it out into an even, thin, round. Cook until the bottom is browned and crispy, 3 to 4 minutes. Flip and cook 2 to 3 minutes longer for the bater to set. Cut into wedges and serve with dipping sauce (see notes below*).
*Three things here:
1. Make a few saucers of dipping sauce. Each gets 1 tablespoon each of soy sauce, rice vinegar, and water, and 1/4 teaspoon (a dot or two) of sesame oil. Stir together. Scattering some sesame seeds or the tiniest bit of minced chili over the sauce won't hurt.
2. You need rice flour for this pancake. (Specifically Asian rice flour made from glutinous rice; don't go for the gluten-free health food stuff.) The mix of flours makes it light and crisp and hard to resist.
3. On account of the irresistibleness, you may want to plan to make an extra one, because it will go fast.
Originally featured in The Lucky Peach Cookbook is Great: A Few Of Our Favorite Recipes