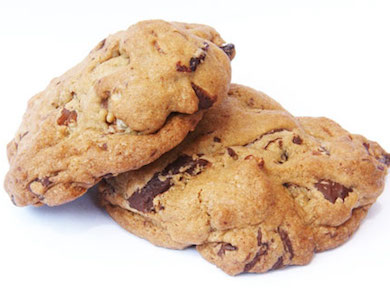 Katie Lee Joel's Dark Chocolate Chunk & Dried Cherry Cookies
The summer before last, a mutual friend brought the lovely Katie Lee Joel and her husband William over for dinner. Much to my delight, she brought a fresh batch of these cookies with her. I adore the contrast of the dark chocolate and the cherries—heaven.
2 1/4 cups unbleached, all-purpose flour
3/4 teaspoon baking soda
1 teaspoon baking powder
1 teaspoon salt
1/2 cup (1 stick) unsalted butter, at room temperature
2/3 cup dark brown sugar, firmly packed
2/3 cup granulated sugar
2 large eggs
1 teaspoon pure vanilla extract
8 ounces dark chocolate, coarsely chopped (be sure to use a high-quality chocolate with more than 60% cacao)
1 cup dried cherries (about 6 ounces), coarsely chopped
1 cup pecans, coarsely chopped (optional)
1. Preheat the oven to 375ºF.
2. Sift the flour, baking soda, baking powder and salt together into a bowl.
3. In the bowl of an electric mixer (or in a bowl using a handmixer), beat the butter with the sugars until light and fluffy, about three minutes. Add the eggs, one at a time, beating until incorporated. Beat in the vanilla. On low speed, add the flour mixture. With a wooden spoon, fold in the chocolate, cherries and pecans (if you're using them).
4. Scoop by heaping tablespoonful onto two nonstick or greased cookie sheets. Bake until golden and chewy, about 12 minutes, rotating the sheets after six minutes. Transfer the cookies to a rack to cool and repeat the process with the remaining dough.
Originally featured in The Cookie