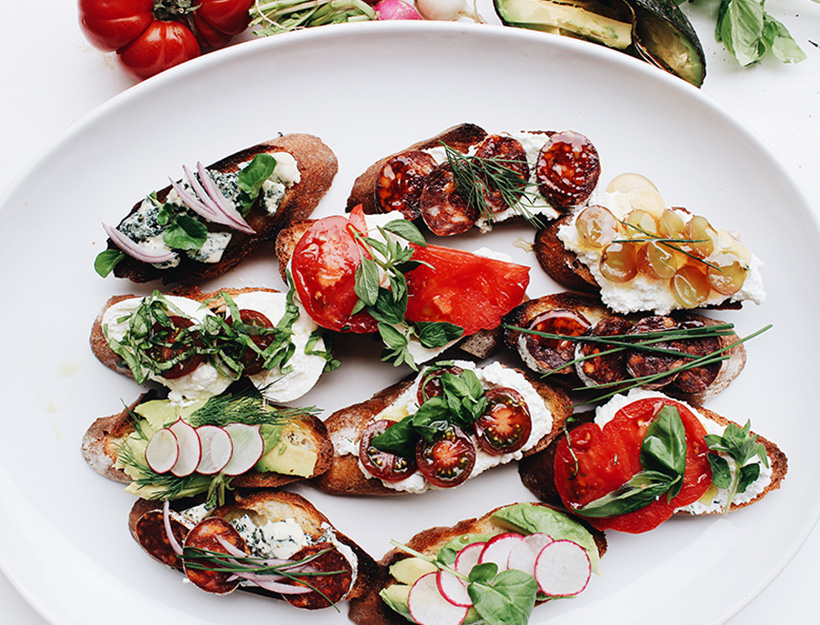 Kari Young's Bruschetta, Five Ways
The best part about this recipe is that there are no rules with the topping combinations. These are ideas. Use whatever herbs you have available or find items that are seasonal and fresh in your local market.
1. Preheat oven to 375 degrees F.
2. On a parchment-lined baking sheet, arrange 3/4″-thick sliced baguette pieces. Brush olive oil onto each slice. Toast in oven for 5-7 minutes (until golden-brown along the edges).
3. While toasted bread is still warm, rub a whole garlic clove on each piece.
4. Arrange toasted bread on a platter or cookie sheet and assemble bruschetta with the various toppings:
– Grapes (roasted optional), ricotta, and honey
– Heirloom tomato, burrata, and basil
– Heirloom tomato, ricotta, and fresh oregano
– Salame piccante, red onion, blue cheese, and chive
– Avocado, radish, watercress, and dill
5. Finish each with flake salt and cracked black pepper and drizzle with olive oil (optional).
Originally featured in Five Tips for Taking a Good Food Photo on Your iPhone (plus, a Bruschetta Recipe)