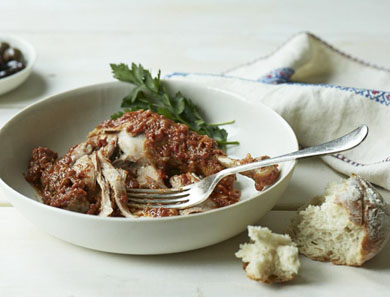 Braised Cinnamon Chicken (Kapama)
A take on the traditional Greek dish kapama, the subtle taste of cinnamon braising with the chicken, tomatoes, onion and garlic, sends an incredible aroma through the house and makes for a really special yet simple to prepare meal. Best served over pasta (orzo works especially well) and/or with crusty bread. Traditionally topped with grated Myzithra or Kasseri cheese, Romano also works well.
1. Wash and dry chicken. Season with salt, pepper and a light sprinkling of ground cinnamon on each side. Coat large pot with olive oil and place over high heat. When oil is hot, sear chicken pieces for 1 minute on each side, until the skins are browned. Remove chicken pieces from pan and set aside.
2. Lower heat to medium-high and add onions. Stir for a minute until soft, then add garlic. Let cook for another minute until translucent. Add cinnamon stick, tomatoes, broth and season with salt and pepper. Stir and bring to simmer. Add chicken pieces back into the pot, submerging into the liquid. Simmer for about 2 hours uncovered, shaking the pan from time to time to move the chicken around, until meat is falling off the bone.
3. Garnish with grated cheese and parsley and serve over pasta and/or with crusty bread.
Originally featured in One Pan Meals