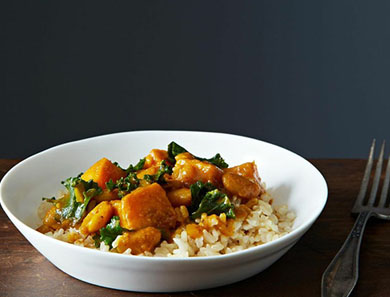 Kale, White Bean & Sweet Potato Korma
This is a rich, hearty vegan stew that's easy and quick to make for a weeknight dinner. We like heat, so we added a pinch of red chili flakes to the coconut oil to simmer with the onions.
1. Heat coconut oil in a large Dutch oven or heavy saucepan over medium-high heat until it melts.
2. Add the onion and cook, stirring frequently, for 4 to 6 minutes, or until soft and translucent. Stir in the garlic and ginger then continue stirring until fragrant, about 1 minute. Stir in the sweet potatoes, tomato sauce, and curry powder and continue stirring for 10 minutes or until the potatoes begin to soften.
3. Add the coconut milk, kale, and beans to the pot. Reduce the heat to low, cover, and simmer for 20 minutes, or until the potatoes are soft and completely cooked through.
Contributed by By Alexandra Dawson through our Dark, Leafy Greens contest with Food52. 
Originally featured in Dark, Leafy Green Recipes