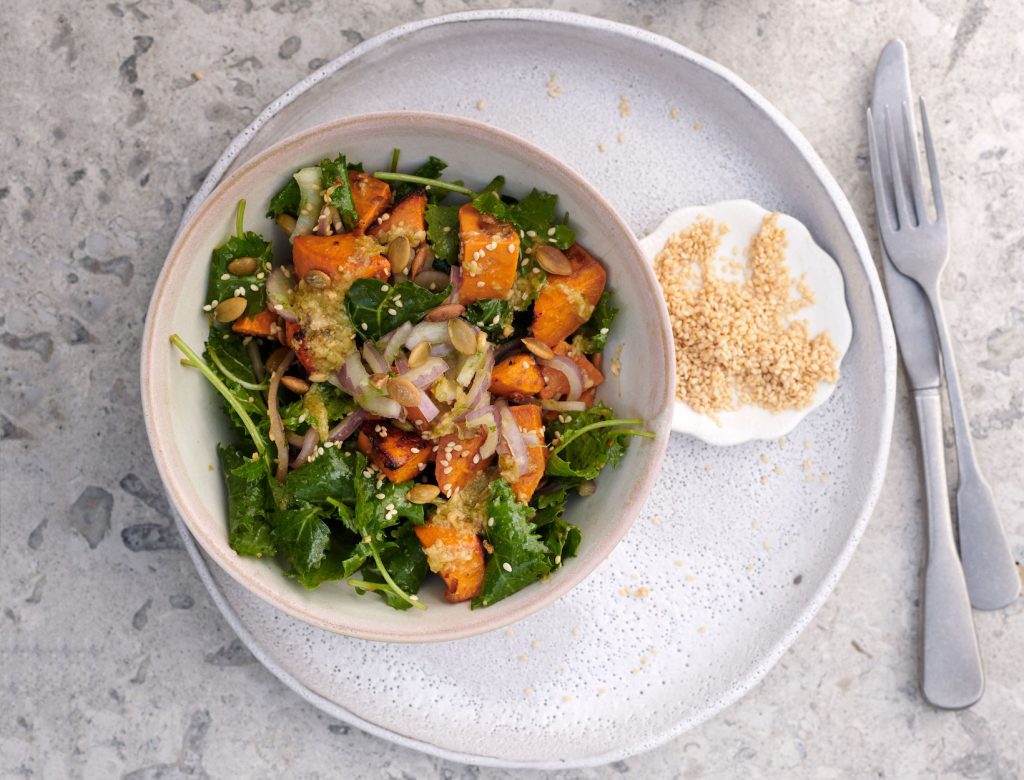 Kale & Sweet Potato Salad with Miso
From GP's new cookbook, The Clean Plate: "I could never get bored of this salad. Tossing the sweet potatoes with the dressing while they're still warm is key—it helps the potatoes absorb all that delicious citrusy-umami flavor."
1. Preheat the oven to 425°F. Line a baking sheet with parchment paper.
2. In a large bowl, whisk together the miso and olive oil. Toss the cubed sweet potatoes in the miso mixture until evenly coated. Spread the potatoes out on the prepared baking sheet and roast for 20 to 25 minutes, until soft and caramelized.
3. While the potatoes roast, in a small bowl, toss the onion slices with the salt and lime zest and let sit for about 10 minutes.
4. Then make the dressing. In a small bowl, whisk together the miso, ginger, lime zest, and lime juice. While whisking continuously, slowly add the olive oil, then whisk until emulsified. Taste and season with salt.
5. While the potatoes are still warm (not hot), transfer them to a serving bowl and toss with the kale, cilantro, pepitas, onion, and dressing. Finish with the sesame seeds.
For the best of GP's clean recipes, preorder The Clean Plate.