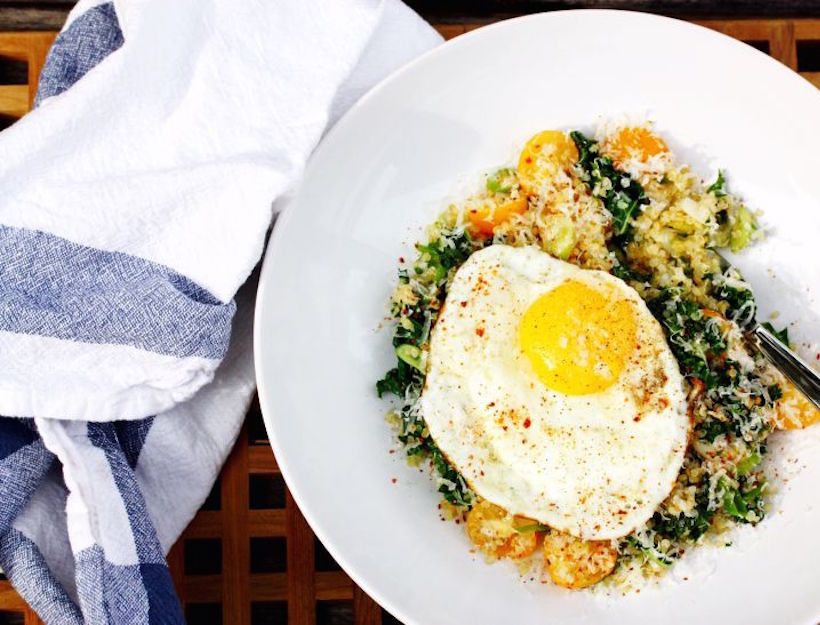 Kale Quinoa Breakfast Bowl
The dried Aleppo pepper makes this hearty breakfast dish, adding depth and a lot of spice. It takes minutes to make and yet is impressive, healthy, and satiating.
1 tablespoon olive oil
1 cup (packed) cleaned and roughly chopped kale
½ cup Perfectly Cooked Quinoa
1 garlic clove, minced
¼ teaspoon aleppo pepper (you can sub crushed red chili)
6 cherry tomatoes cut in half
2 scallions, thinly sliced
1 teaspoon red wine vinegar
2 tablespoons grated parmesan or pecorino romano
1 fried or poached egg
1. Heat olive oil over medium-high heat in a medium sauté pan. Add kale, season with a pinch of salt, and sauté for about one minute. Add minced garlic clove and aleppo pepper and sauté for another 30 seconds, or until the garlic becomes fragrant but hasn't turned brown. Add cooked quinoa, and sauté for one minute.
2. Add cherry tomatoes, scallions, and vinegar, and turn off heat. Toss to combine, and check for seasoning.
3. To serve, plate the mixture, garnish with grated cheese, and top with a fried or poached egg.
Originally featured in The goop Holiday Survival Guide