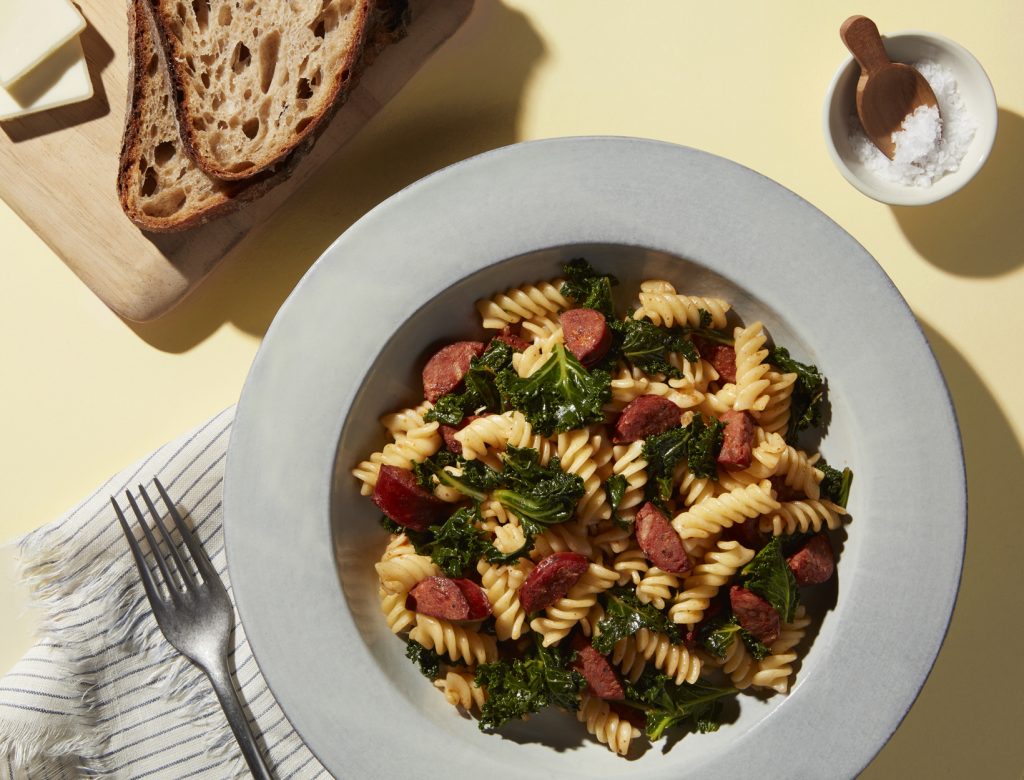 Kale Chorizo Pasta
Spicy Spanish chorizo and hearty kale are a classic combo—toss in a little pasta and you've got a weeknight dinner dream. It's easy (hello, one pot!) and super delish.
¾ pound pasta
2 tablespoons olive oil
12 ounces cooked Spanish chorizo, cut into ½-inch-thick half moons
1 bunch kale, deveined and roughly chopped
4 cloves garlic, chopped
salt to taste
1. Bring a large pot of water to a boil. Add the pasta and cook according to the package directions.
2. While the pasta cooks, heat the olive oil over medium-high heat in a large sauté pan. Add the chorizo and cook for about 5 minutes, just until some of the fat has rendered and the chorizo is nice and crispy.
3. Reduce the heat to medium and add the kale and garlic. Stir until the garlic is browned (but not burned) and the kale has wilted.
4. When the pasta is cooked, reserve a few tablespoons of the cooking water, then drain the pasta. Add the drained pasta to the chorizo mixture and toss well, adding the reserved cooking water to create a sauce. Season with salt to taste and serve.
Originally featured in Eat Well (and Shop Only Once) All Week