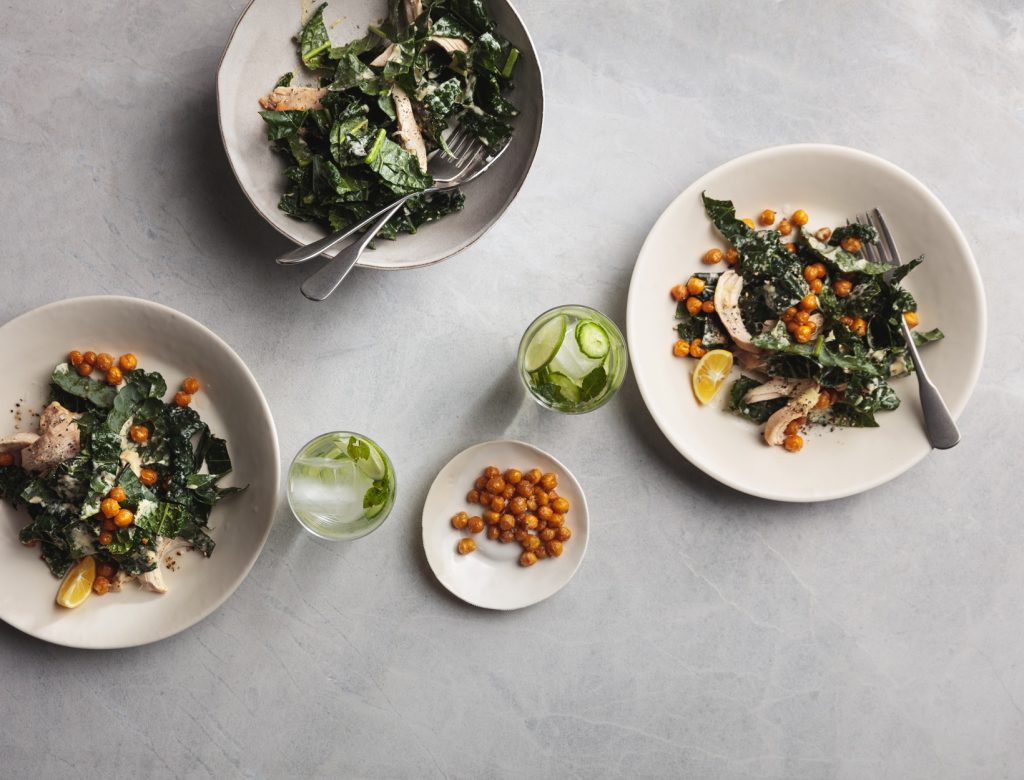 Kale Caesar with Chicken and Crispy Chickpeas
The star of this salad is the dressing—it's a creamy cashew riff that might be better than the dairy- and egg-laden original. The toothsome texture of cashews almost mimics the delightful crumbliness of Parmesan.
For the chickpea "croutons":
1 (15-ounce) can chickpeas
3 tablespoons olive oil
1 teaspoon garlic powder
2 teaspoons salt
For the dressing:
1 cup cashews, soaked overnight in 1½ cups water
2½ tablespoons Dijon mustard
1 teaspoon salt
2 teaspoon pepper
3 anchovy fillets (optional)
3 tablespoons water
3 cloves garlic, minced
⅔ cup olive oil
For the salad:
1 bunch Tuscan kale, cut into ribbons
1 cooked chicken breast, diced
1. Make the chickpea croutons: Heat oven to 400°F. Drain and rinse the chickpeas, then gently dry with a cloth or paper towel. Transfer dried chickpeas to a sheet tray and drizzle on olive oil, garlic powder, and salt to coat the chickpeas. Bake for 25 minutes until chickpeas are dried out and crunchy.
2. Make the dressing: Drain the cashews and mix in the blender with Dijon mustard, salt, pepper, anchovies, water, and olive oil. Blend until smooth and creamy (if it's too thick, add a little water or olive oil to loosen the mixture).
3. Assemble the salad: In a large bowl, combine the kale and 3 tablespoons of the dressing, then gently massage together with your hands. Add chicken and finish with chickpea croutons, salt, pepper, and a squeeze of lemon juice.
Originally featured in The Annual goop Detox 2019