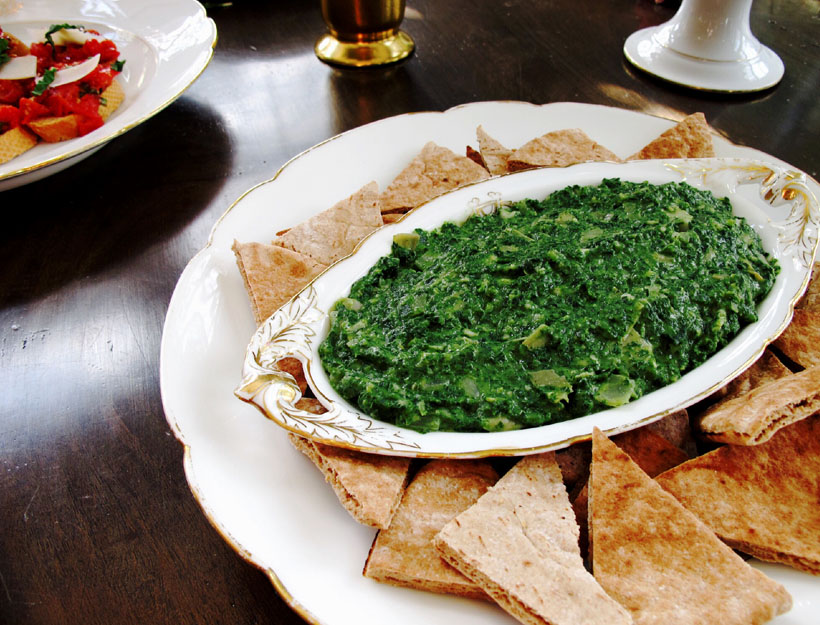 This kale-and-artichoke dip is a goop favorite. The prep takes a bit of time, but if you whip it up a day or two in advance, all you have to do is pop it in the oven the day of the party.
1. Melt the butter in a large heavy saucepan over medium heat. When the butter has melted and is beginning to foam, add the diced onion and a pinch of salt, and sauté for about 5 minutes. Add the garlic and chopped thyme and continue to sauté for 1 more minute.
2. Add the flour and cook for about 2 minutes, stirring constantly with a wooden spoon or spatula to make sure it doesn't burn.
3. Gradually pour in the milk, ½ cup at a time, and whisk often to avoid lumps. Cook the milk until it's thickened, and coats the back of a spoon, about 10 minutes total. Turn off the heat.
4. Meanwhile, bring a large pot of salted water to a boil, and roughly chop the kale. Add chopped kale to boiling water and cook for 5 minutes, until tender. Drain in a colander, rinse with cold water, and when cool enough to handle, squeeze out almost all of the excess liquid.
5. Blend the blanched kale in food processor until smooth—you may need to add 1 or 2 tablespoons of water to keep it moving.
6. Add the kale, chopped artichoke hearts, nutmeg, and cayenne to the milk-and-onion mixture.
7. Stir in 1 cup grated Gruyère and ½ cup grated Parmesan (reserve the remaining cheese for topping the dish), then season to taste with salt and pepper.
8. At this point, you can bake right away or store in the fridge until ready to use.
9. To finish, preheat the oven to 375°F. Put the mixture in a shallow, oven-safe dish (or several small dishes), sprinkle over remaining cheese, and bake until the cheese is beginning to brown and the dip is bubbling, about 25 minutes.
10. Serve with toasted pita, sliced baguette, or tortilla chips.
Originally featured in Easy, Make-Ahead Appetizers