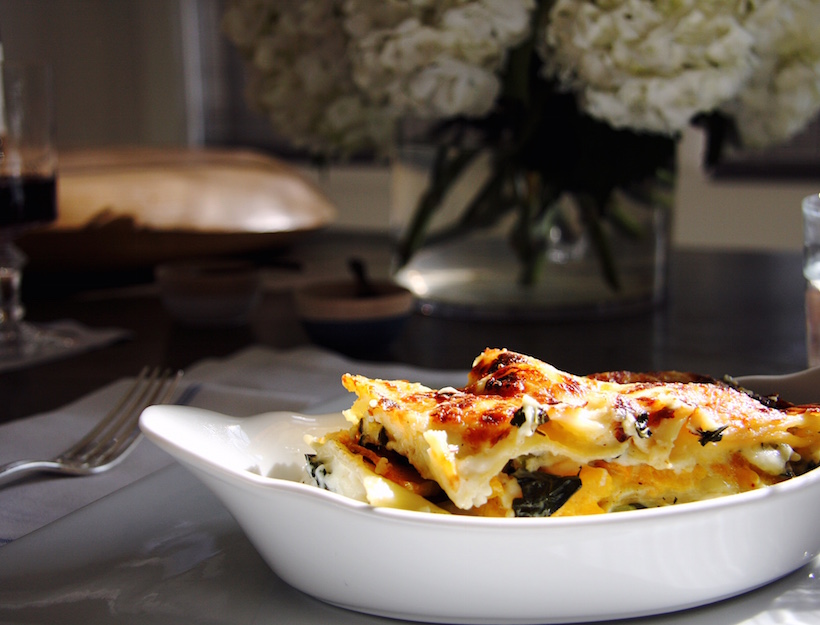 Kale and Butternut Squash Lasagna
Even carnivores won't miss the meat in this vegetarian lasagna. The different components do take some prep time, but the whole thing can be made and assembled up to a day in advance. Crescenza (also sometimes called stracchino) is a creamy Italian cheese and a great addition here; if you can't find it, though, feel free to skip it.
1. Preheat the oven to 400°F.
2. Spread the squash slices out in an even layer on an aluminum-foil-lined baking sheet and toss with 1 tablespoon olive oil, ½ teaspoon salt, and ground black pepper. Roast for 20 minutes, or until tender and just starting to brown.
3. While the squash is roasting, make the béchamel sauce. In a medium saucepan, cook the butter over medium heat until it is melted and beginning to foam, then add the flour and whisk to incorporate. Cook the butter-and-flour mixture, whisking constantly, for 2 to 3 minutes, making sure it doesn't brown. Slowly begin adding the milk, ½ cup at a time. The mixture will seize up and thicken quite a bit after the first addition, but don't worry. Keep whisking and adding slowly until the sauce is thickened and coats the back of a wooden spoon. This should take about 10 minutes. When the sauce is cooked, add the salt, nutmeg, cayenne, and Parmesan cheese.
4. To cook the kale, heat olive oil in a sauté pan over medium-high, add sliced kale and a large pinch of salt, and cook for about 5 minutes, or until the kale is wilted.
5. Once all of the components are ready, it's time to assemble the dish. Grease an 8½x4½-inch loaf pan with butter or cooking spray, then spread a quarter of the béchamel sauce in the bottom. Next make 1 layer of lasagna noodles, breaking or cutting them as necessary to fit. Top the noodles with ½ the butternut squash, ½ the kale, ½ the crescenza, and ⅓ of the Parmesan. Then repeat with another ¼ of the sauce, another ⅓ of the pasta, the rest of the squash, kale, and crescenza, another ⅓ of the Parmesan, and another ¼ of the béchamel. Top with the last layer of pasta, the last ¼ of béchamel and the last ⅓ of parmesan. Cover and store in the fridge until ready to bake.
6. To cook, bake at 375°F for 20 to 25 minutes, or until the top is browned and the lasagna is bubbling.
Originally featured in Date-Night Dinners