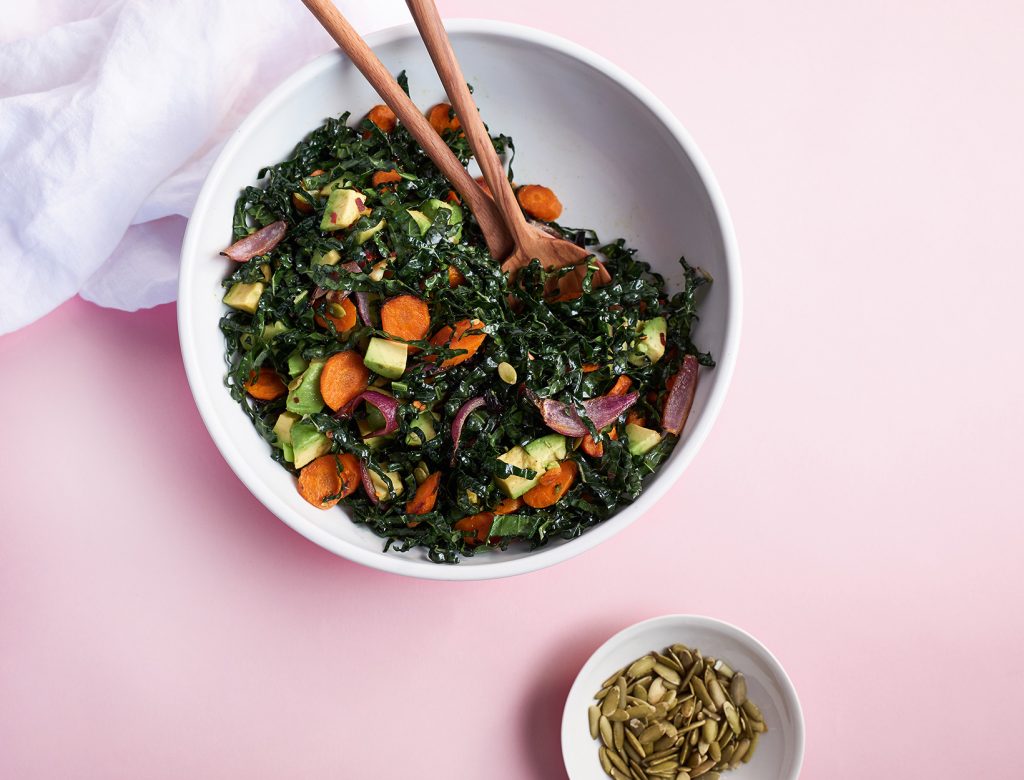 Kale and Avocado Salad with Roasted Carrots
This kale and carrot salad is so tasty and hearty, it'll definitely be your new potluck or packed lunch go-to. The veggies are roasted and the kale is sturdy, so it's a make-ahead dream. The key is to hit the hot veggies with sherry vinegar right when they come out of the oven, so they really absorb the deep, sweet, and tangy flavor.
4 carrots, split lengthwise and cut into 1-inch pieces
½ red onion, cut into ½-inch slices
2 tablespoons olive oil
½ teaspoon salt
½ teaspoon cumin
½ teaspoon coriander
¼ teaspoon chili flakes
2 teaspoons sherry vinegar
1½ cups shredded dino kale
1 avocado, cubed
2 tablespoons pepitas
1. Preheat the oven to 375°F
2. Combine the first 7 ingredients on a parchment lined baking sheet. Bake for 15 to 20 minutes, or until the carrots are slightly tender and the onions are caramelized.
3. While still warm, drizzle the sherry vinegar over the roasted carrots and onions. Let cool for a few minutes.
4. Combine the kale, avocado, pepitas, and cooled roasted carrot-onion mix, tossing well to coat the kale in the olive oil, spices, and vinegar from the roasted carrots. Finish with an extra splash of olive oil, sherry vinegar, and a sprinkle of salt.
Originally featured in Refreshingly Simple Salad Ideas for When It's Hot Out