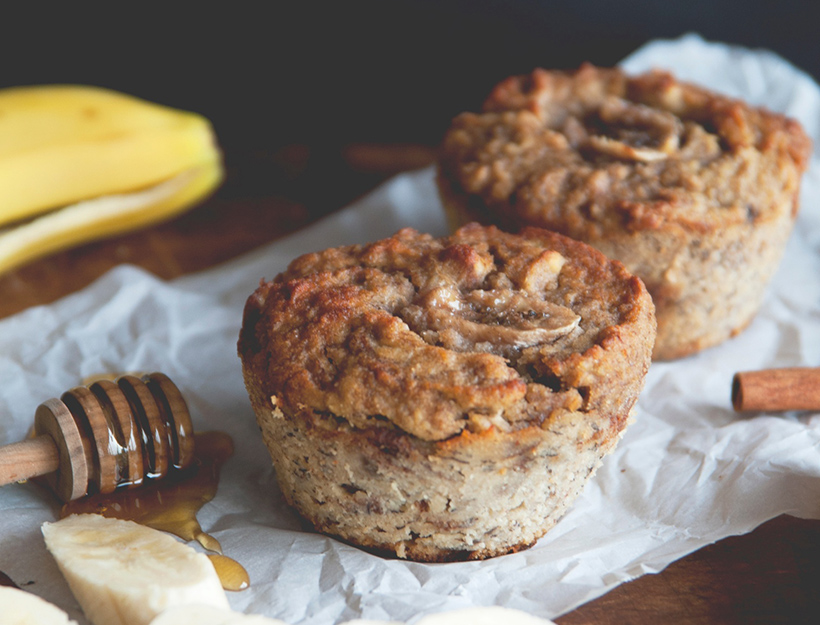 The secret cinnamon almond butter filling makes these banana muffins insanely good. If you don't have a jumbo silicone muffin tin, use a standard one—just be sure to add less batter and use greaseproof muffin liners.
1. Preheat oven to 350°F.
2. Line muffin tins with parchment or use a silicone jumbo muffin tin or a standard muffin pan.
3. In a large bowl, stir together all dry ingredients.
4. Whisk together melted coconut oil, eggs, and maple syrup, stir into dry ingredients, then fold in the banana.
5. Meanwhile, combine all filling ingredients in a small bowl and stir well.
6. Pour ¼ cup (if using jumbo muffin pan) of batter into muffin tins.
7. Pour one tablespoon of filling over batter then pour one more ¼ cup of batter over filling.
8. Optional Garnish: Place sliced banana on top of each individual muffin and brush with coconut oil.
9. Bake muffins for 20-25 minutes at 350°F.
10. Allow to cool in pans about 15 minutes before eating.
Originally featured in Gluten-Free Baking Recipes