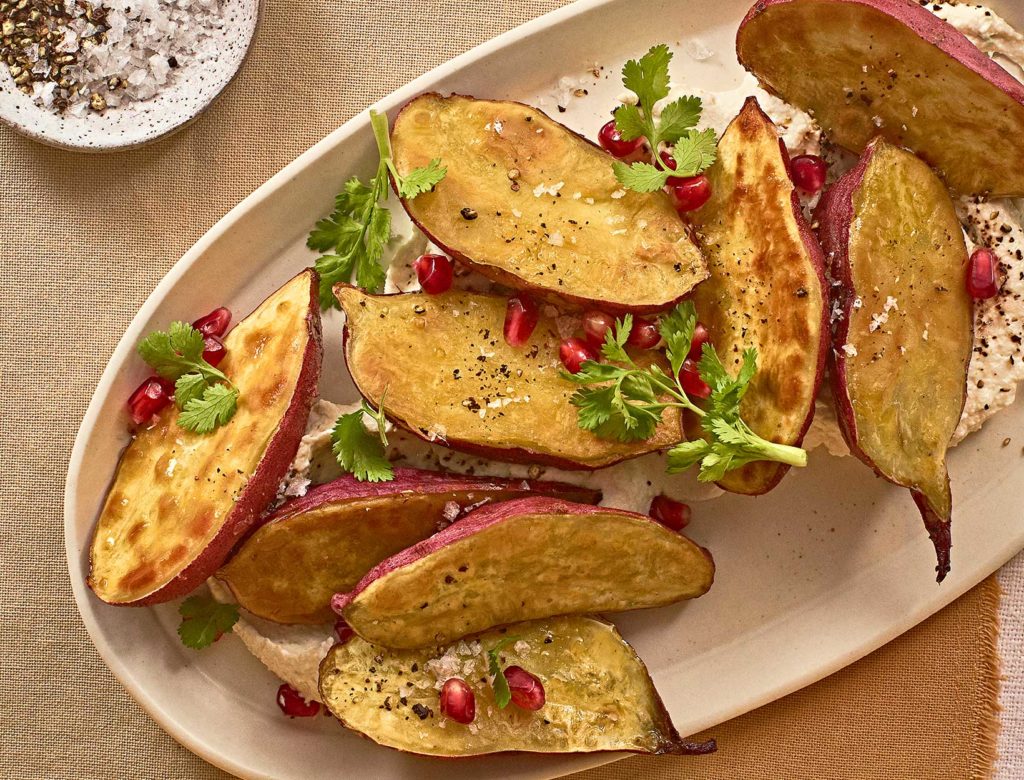 Japanese Sweet Potatoes with Lime-Tahini Yogurt
You could easily serve this year-round. We like it as a grown-up alternative to the sugar-laden sweet potato dish you normally see on Thanksgiving. Not that we're trying to cut the sugar per se (it is a holiday after all), but Japanese sweet potatoes are already plenty sweet, and the tart and creamy lime-tahini yogurt keeps this dish in decidedly savory territory.
1. Preheat the oven to 400°F.
2. In a large bowl, toss the sweet potatoes with the oil and a large pinch of kosher salt. Lay them cut side down on a sheet pan. Then roast, flipping about halfway through, until cooked through and nicely browned, about 40 minutes.
3. Meanwhile, combine the yogurt, tahini, lime zest, and lime juice in a medium bowl and whisk until well combined. (If the sauce is too thick, add a little water to thin it to the desired consistency.) Add kosher salt to taste.
4. Spread the yogurt sauce on a serving platter and place the roasted sweet potatoes on top. Garnish with the cilantro, pomegranate seeds, flaky sea salt, and freshly ground black pepper. Squeeze the juice from the lime wedges to taste.
Originally featured in 4 Easy, Wild Card Veggie Sides for Thanksgiving Day