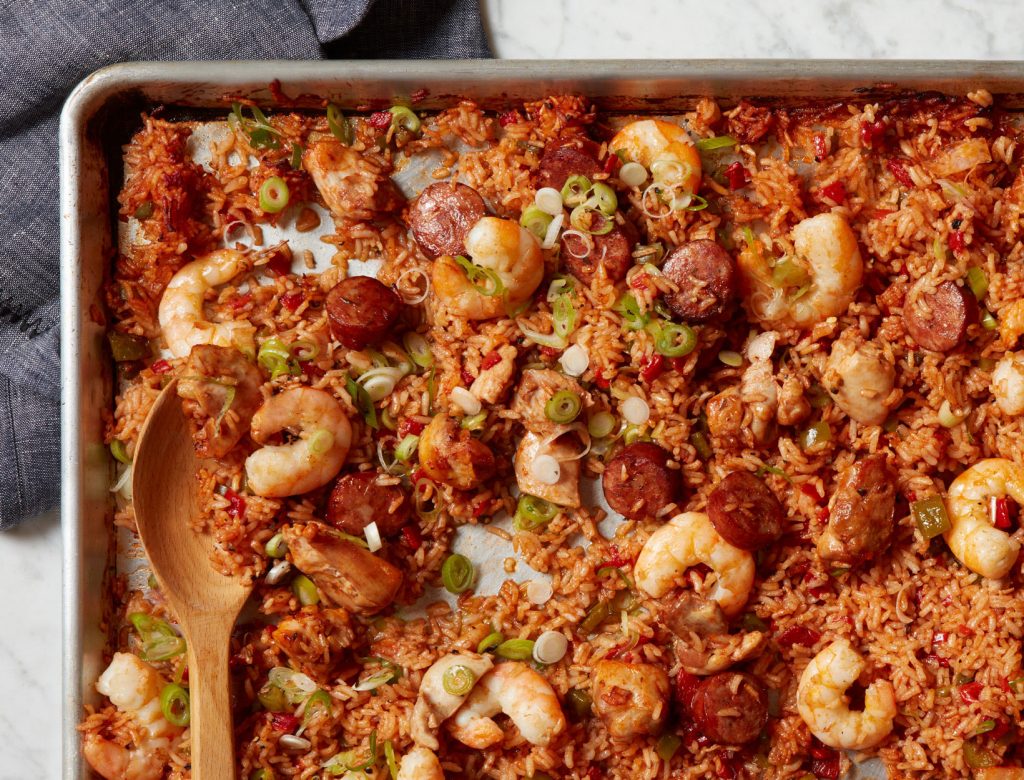 Jambalaya
A sheet-pan version of the Louisiana classic, this hearty rice dish—packed with chicken, andouille sausage, shrimp, and lots of seasonings—is incredibly flavorful. Be sure to scrape up all the good bits off the baking sheet and save the crispy edges for someone you really like.
2 tablespoons olive oil, divided
1½ cups long grain white rice
½ green bell pepper, finely diced
6 jarred piquillo peppers, finely diced
2 boneless skinless chicken thighs, cut into 1-inch pieces
5½ ounces andouille sausage, cut on a bias into ½-inch slices
2⅓ cups chicken stock
3 tablespoons tomato paste
½ teaspoon dried oregano
½ teaspoon dried thyme
½ teaspoon smoked paprika
1 large pinch cayenne pepper or piment
d'Espelette
1 teaspoon kosher salt
2 tablespoons unsalted butter, cut into small pieces
½ pound medium raw shrimp (cleaned)
flaky salt and cracked black pepper
2 scallions, thinly sliced
1. Preheat the oven to 375°F.
2. Coat a rimmed (18×13-inch) half sheet pan with 1 tablespoon of the olive oil.
3. Spread the rice over the pan in as even a layer as possible, then scatter over it the peppers, then the chicken thighs, then the sliced andouille sausage.
4. Heat the chicken stock, tomato paste, dried herbs, paprika, cayenne, and salt in a small saucepan and bring to a gentle boil.
5. Carefully pour the hot chicken stock mixture over the rice mixture, dot the top with the butter pieces, and cover tightly with foil (if you don't want to use foil, an inverted sheet pan will work, too).
6. Carefully transfer to the oven and cook for 30 minutes.
7. Remove the pan from the oven and turn the heat up to 400°F. In a small bowl, toss the shrimp with the remaining tablespoon of olive oil and season with a little salt and pepper.
8. Remove the foil from the sheet pan and arrange the shrimp evenly over the top. Pop back in the oven for 7 minutes, or until the shrimp are just cooked through.
9. Sprinkle with a little flaky salt and lots of cracked black pepper and garnish with sliced scallions.
Originally featured in The New One-Pot Meal Happens in a Pan