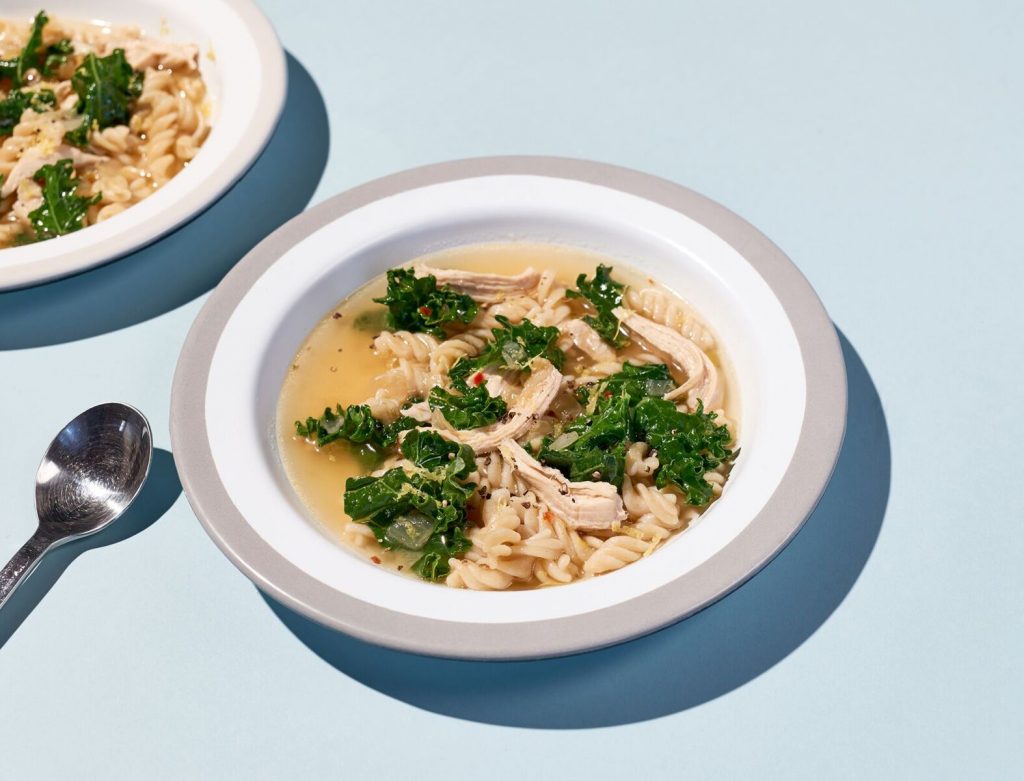 Italian Kale and Chicken Soup
Sometimes when you're detoxing, you just want something warming and cozy. This cleaned-up version of chicken noodle soup has all the comfort you're craving (tender chicken, savory broth, and noodles) plus a few detox twists (grain-free noodles, kale).
3 tablespoons olive oil
½ white onion, diced
2 garlic clove, diced
¼ teaspoon fennel seed
¼ teaspoon chile flake (optional)
¼ teaspoon rosemary, chopped
1 teaspoon salt
1 quart chicken stock
1 boneless, skinless chicken breast
1 cup curly green kale, torn
1 cup of your favorite gluten free pasta (we like lentil,
chickpea or brown rice), cooked
plus lemon zest for garnish
1. Heat the olive oil in a heavy bottom soup pot, then add the onions, garlic, fennel seed, chile flake, rosemary, and salt. Sautee for about 5 minutes over medium heat, until the onions soften and the herbs are fragrant.
2. Then add the stock and bring to a simmer. Then add the chicken breast, and cover, leaving it over a low-medium flame. After about 15 minutes check the chicken to see if it's cooked. When it's ready, remove form the pot and set aside.
3. Once it's cool enough to handle, shred the chicken. Add the chicken and kale to the soup and bring to a simmer.
4. To serve, ladle the soup over the cooked noodles and finish with a sprinkle of salt and some freshly grated lemon zest.
Originally featured in The Annual goop Detox 2018