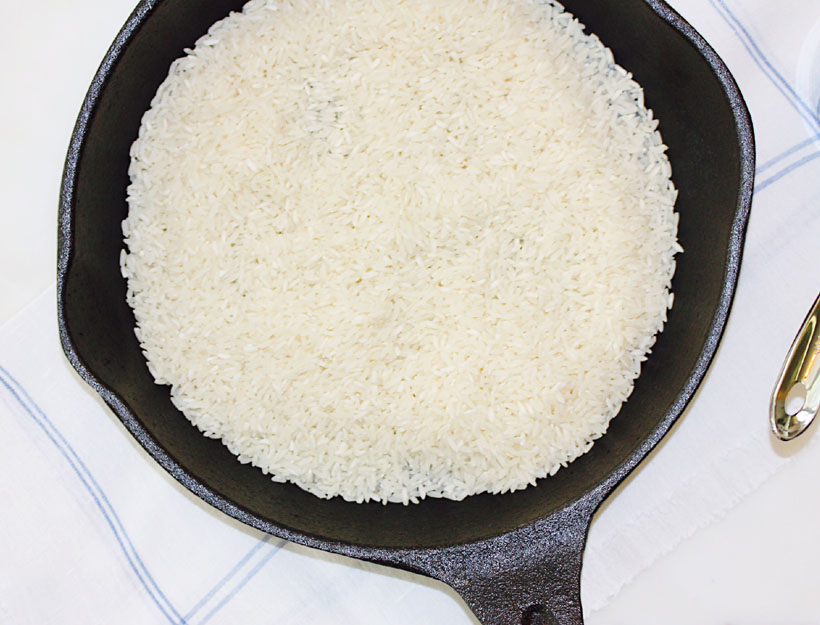 This recipe was originally featured in Chef Edward Lee's cookbook, Smoke + Pickles. We tried it out for Cookbook Club #2.
1. Place the rice in a large bowl and fill the bowl with 4 cups cold water. Using your hands, stir the rice in circles until the water turns cloudy. Drain the rice in a strainer, then return to the bowl and add another 4 cups cold water. Allow the rice to soak for 30 minutes.
2. Drain the rice in a strainer again and shake to release the excess water. Transfer the rice to a 10-inch cast-iron skillet. Add 3 cups cold water and the salt and give it a nice stir. Bring the water to a simmer over medium-high heat. Turn the heat as low as you can, cover the skillet with a tight-fitting lid, and cook for 18 minutes. Turn off the heat and allow the rice to rest for 10 minutes, with the lid still on.
3. Take the lid off the skillet, turn the heat on to medium, and cook the rice, without stirring, for 3 to 5 minutes, until the rice on the bottom of the pan turns amber and crisp. You can keep the rice warm in the skillet until you are ready to serve.
Originally featured in The goop Cookbook Club: Smoke & Pickles