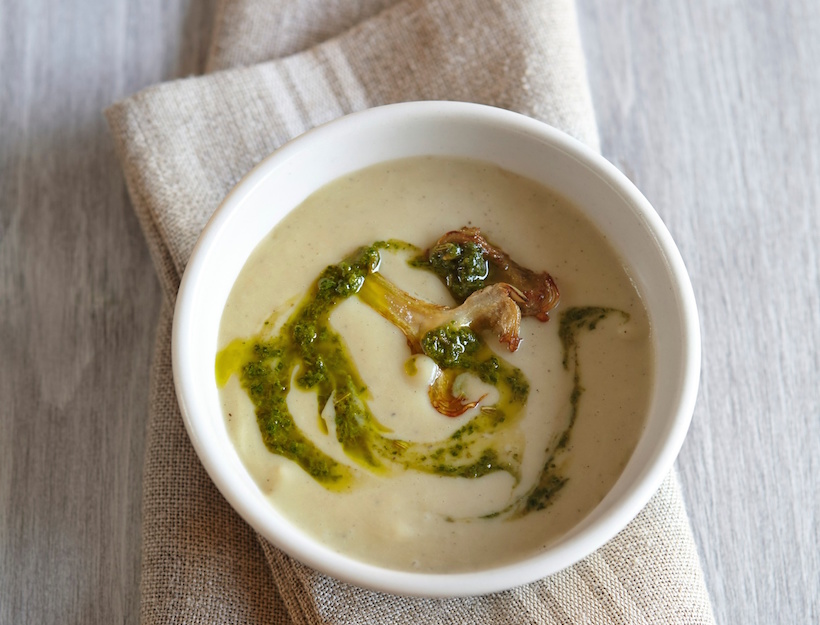 "This member of the thistle family is a powerful liver cleanser! It contains a number of phytonutrients (apigenin, cynarin, silymarin, and luteolin) that have diuretic properties, detoxify the liver, boost gall bladder function, and improve bile flow. Artichokes are even used in Traditional Chinese Medicine as a remedy for water retention and liver ailments; they also aid digestion and help people who experience stomach acidity. Combined with garlic, thyme, and a blend of potent herbs and spices, this soup is one of the best cleansing potions you can have."
1. Heat the oil in a soup pot over medium-high heat, add the leeks and garlic, and sauté for 5 minutes, or until the leeks are translucent.
2. Add the artichoke hearts, potatoes, thyme, and boiling filtered water. Simmer over medium-low heat until the leeks and artichoke hearts are soft, 30 to 45 minutes.
3. Remove the thyme sprigs and strip the remaining leaves into the pot.
4. Transfer to a Vitamix and blend until silky.
5. Add the lemon juice to the soup.
6. Serve with a swirl of green harissa for extra nutritional and medicinal benefits, plus a dose of oomph.
* To make the green harissa, combine all the ingredients in a food processor and pulse until coarsely chopped. This will keep for up to a week stored in the fridge.
Originally featured in Make Ahead Soups