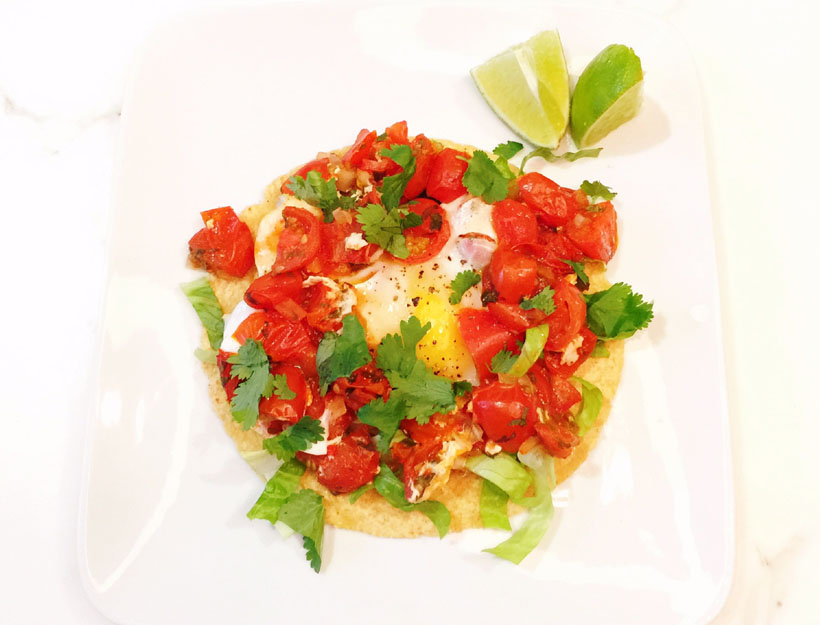 From Jessica Seinfeld: "Do me a favor? Make this. Please use a hearty, rich, high-quality salsa. Thank you."
1. Heat the oven (with the oven rack in the middle) to 400°F. Place the tortillas on a rimmed sheet pan. Pour the oil into a small bowl, then brush each side of the tortillas with the oil (if you don't have a brush, wing it with a paper towel). Bake until golden brown and crisp, 10 to 12 minutes.
2. While the tortillas bake, tear off and discard any discolored outer leaves from the head of lettuce. Then, starting at the leafy end, thinly slice it crosswise until you get about 2 cups of shredded lettuce. Or just tear it. Place in a salad spinner, wash, and spin dry.
3. Place a small saucepan on the stove and add the beans. Turn the heat to low and cook, stirring occasionally, until heated through.
4. While the beans heat, place a medium skillet on the stove and add the salsa. Turn the heat to medium. Once the salsa starts to bubble, use a spoon to make 4 small wells in the salsa, evenly spaced apart. Crack an egg into each well. Cover and cook until the whites are just set and the yolks are still soft to the touch, 3 to 5 minutes.
5. To assemble, place a tortilla on a plate and layer with some of the beans and lettuce. Top with one of the eggs and some of the salsa.
Copyright © 2013 by Jessica Seinfeld from THE CAN'T COOK BOOK published by Atria Books, a division of Simon & Schuster, Inc.
Originally featured in The Can't Cook Cookbook