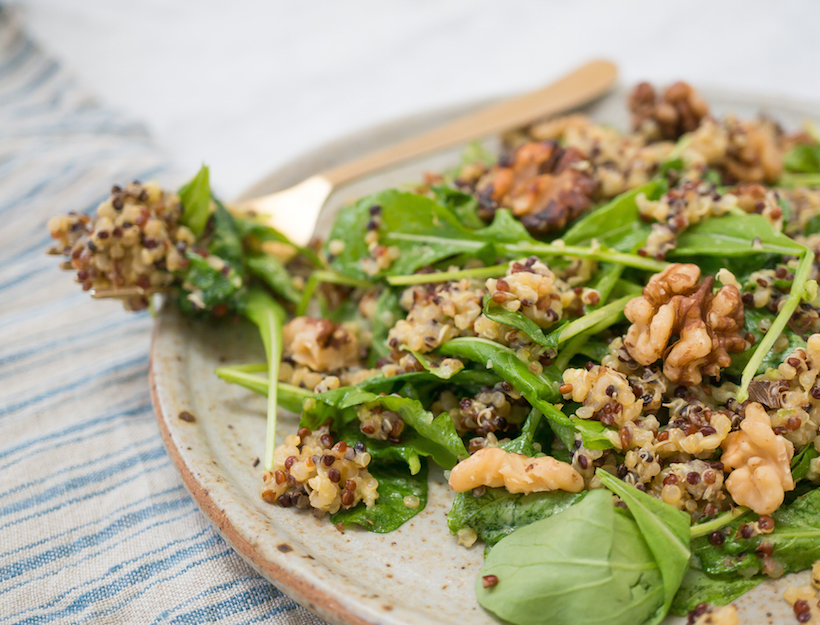 Honeyed Jalapeño Lime Quinoa Arugula Salad
This is the perfect hearty salad to spice up lunch. It's all about the dressing here—a veritable who's who of detoxifying superfoods. Between the metabolism-boosting jalapeño, the antioxidant-rich honey, the digestion-enriching apple cider vinegar, the immune-enhancing garlic and the skin protecting lime zest, it supports your body from head to toe, while brightening and bringing to life the arugula and quinoa base. Quinoa is one of my favorite grains to include in salads because of its protein content—a whopping 8g per cup. Beyond that, it's a complete protein, which means it has the perfect balance of amino acids to be assimilated by your body. The result? Food for your cells, and a full belly well through dinner.
1. In a small food processor or blender, blend together all dressing ingredients until very smooth. Set aside.
2. In a medium pan over medium heat, lightly toast the walnuts for about 4-5 minutes, moving around frequently until they're lightly browned. Toasting your nuts not only enhances their flavors, but it makes them more bioavailable and digestible in your body.
3. Toss dressing with the quinoa, arugula, and walnuts until all ingredients are lightly coated. Reserve any leftover dressing for a future use.
Notes: If you want to make this to take to work, pour the dressing over the quinoa and walnuts, then pack the arugula separately. When you're ready to eat, simply toss the arugula with the quinoa and walnuts and serve!
Originally featured in A Quick, Three-Day Summer Destox