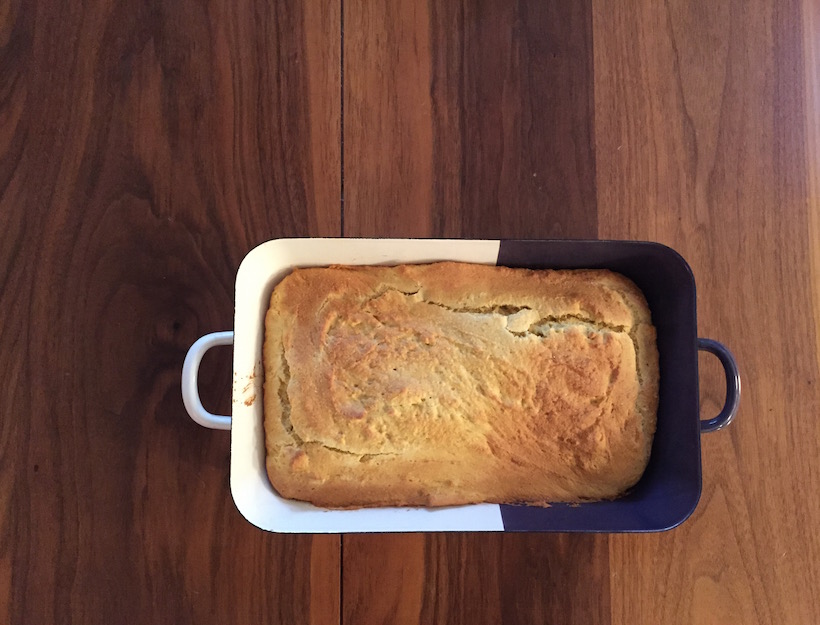 Honey Wholewheat Corn Bread
Melissa Clark recently contributed to our newsletter on Pizza by teaching us how to make it at home like a true pro. She is the most thorough cook we know—providing helpful tips and tricks along each step of the way. The cookbook is arranged by month with seasonal and foolproof recipes for each. Her intros are especially entertaining—personal accounts of how she shops at the farmer's market, feeds her family, how she arrives at her recipes, including changes and tweaks, etc. See below for just two examples of what we mean when we say "thorough."
1. Preheat the oven to 375°F.
2. In a large bowl, whisk together the cornmeal, flours, baking powder, and salt. In a separate bowl, whisk together the sour cream, milk, honey, eggs, and baking soda. Gently fold the wet ingredients into the dry ones until just combined.
3. Place a 9-inch cast-iron skillet (see What Else?) over high heat until hot. Melt the butter in the skillet, swirling the pan to coat the bottom and sides with butter. Pour the butter into the batter and stir to combine. Scrape the batter into the skillet.
4. Bake until the top is golden and a toothpick inserted into the center comes out clean, 25 to 30 minutes.
Cast iron is terrific for corn bread making because it gets nice and hot, which helps the corn bread form a crisp, golden bottom crust. But if you haven't got a cast-iron skillet (and, really, they are cheap enough so you should), you can melt the butter in the microwave and use a 9-inch-square pan for baking instead.
I set out to make a corn bread that was wholesome but light, which is what I got. But if you want to adjust the proportion of whole wheat to all-purpose flour to make the corn bread heartier, you can swap out all of the all-purpose flour.
Chili powder, chopped fresh thyme leaves, fresh corn kernels, sliced scallions, or a handful of grated cheese would all make nice additions to this corn bread. You can stir any extras right into the batter.
Originally featured in The Thanksgiving Lowdown