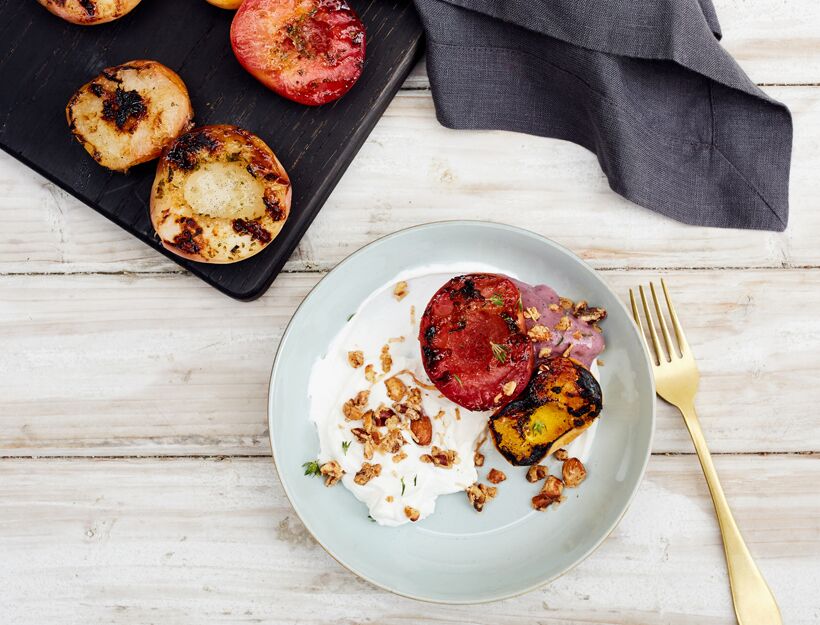 Honey-Grilled Stone Fruit with Berry Whip
Healthy and perfect for both breakfast and dessert, this is the perfect balance of textures and flavors: sweet, sour, crunchy, creamy, hot, and cold—and best of all, guilt-free. This recipe works with any fresh fruit, so mix it up and work with what's in season.
1. Preheat your BBQ to medium heat.
2. On a plate or in a bowl, mix the honey, vanilla seeds, lemon rind, thyme, and rosemary.
3. Dip the flat side of your stone fruit into the honey mix, then place on the BBQ. Cook until golden and soft, about 3 to 4 minutes, then take off grill and let rest.
4. To make the berry whip, place all the ingredients in a food processor and process until smooth (don't overprocess or the fruit will melt).
5. In a chilled bowl or on a chilled plate, place 1 tablespoon of yogurt and smear into a circle using a spoon.
6. Sprinkle granola in the middle, then add berry whip and top with grilled stone fruit, some more yogurt, and granola. Enjoy before berry whip melts.