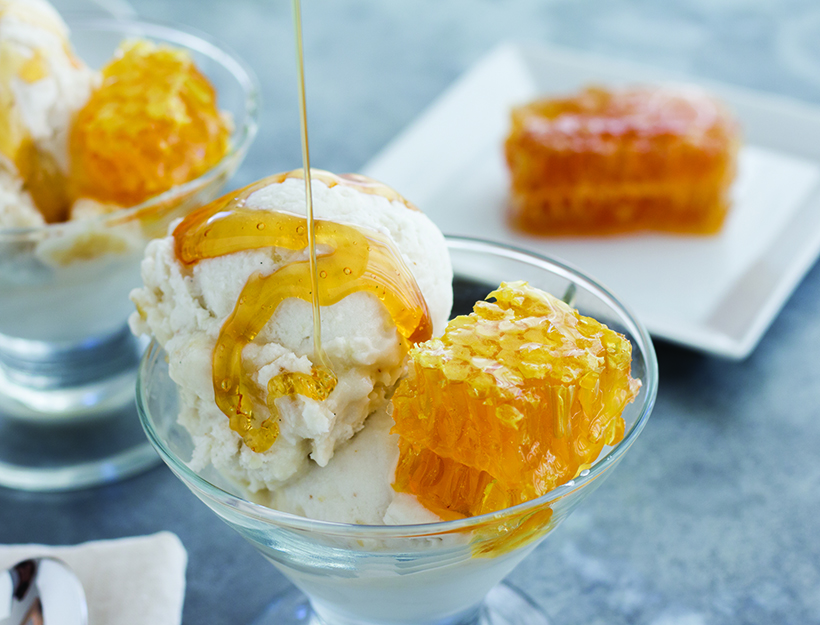 Honey-Coconut Ice Cream
"Fair warning: This ice cream recipe is dangerously good. It only takes a few minutes to prep with an ice cream maker, and in under an hour, you can have ice cream that is cleaner and way more delicious than anything available in the store. As a bonus, you'll have some leftover almond milk that you can use in smoothies or enjoy cold from the fridge."
1 cup almonds
2 dates, pitted
¼-inch vanilla bean, split lengthwise
1 ½ cups coconut cream (from approximately two 13.5-ounce cans of refrigerated full-fat coconut milk)
1⁄8 teaspoon sea salt
1⁄8 cup raw honey
¼ cup chopped almonds (optional)
1. Make the almond milk by blending the almonds, dates, and scraped seeds from the vanilla bean with 2 cups of water until smooth. Strain the mixture through a nut milk bag or cloth and set aside.
2. Open the cans of coconut milk, being careful not to shake them. Separate off the heavy cream from each can. In a medium bowl, mix the coconut cream with 1 cup of almond milk, sea salt, and raw honey until combined. Pour into the bowl of an ice cream maker and process according to the manufacturer's instructions.
3. Serve the ice cream topped with chopped almonds, if desired, and a drizzle of raw honey.
Reprinted with permission from Medical Medium Life-Changing Foods: Save Yourself and the Ones You Love with the Hidden Healing Powers of Fruits & Vegetables. Copyright © 2016 by Anthony William. Recipe photo by Ashleigh & Britton Foster. Published by Hay House; November 8, 2016.
Originally featured in Healing Food from the Medical Medium