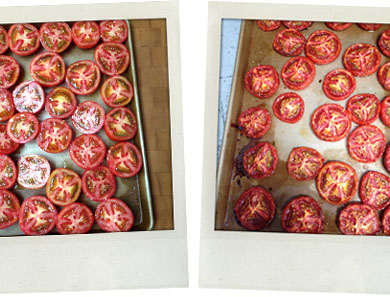 Homemade Bloody Mary Mix
This recipe makes a fresh and delicious Bloody Mary mix.
juice of 1/2 lemon
3 teaspoons fresh horseradish, grated
1 teaspoon of cayenne pepper sauce to taste (or any hot sauce of your choice)
1 heaping tablespoon of worcestershire sauce
1/2 teaspoon of fresh pepper
dash of celery seed
pinch of salt
1. Blend slow-roasted tomatoes on low in a Vitamix.
2. Strain into a jug (save the strained part for the Healthy Chicken Parm below).
3. Add the rest of the ingredients and mix. This keeps in the fridge for up to a week.
Originally featured in Summer Tomato Recipes