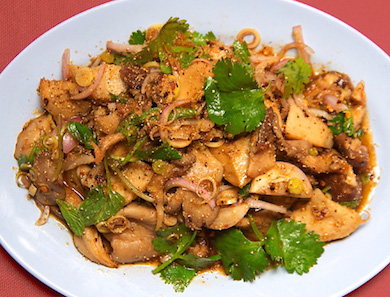 Het Paa Naam Tok (Forest Mushroom Salad)
A warm and absolutely delicious Thai salad.
1. Sauté mushrooms in pan over high heat with oil until tender, sprinkling with a little kosher salt and pepper. Turn heat off. (There should be some liquid that forms in the pan; this is good!) Leave it and the mushrooms in the pan. Allow to cool slightly until just hot to the touch.
2. Add ingredients for dressing to pan and stir well. Allow all to cool until just warm.
3. Add shallots or red onion, mint, cilantro and sticky rice powder and stir gently with large spoon, and transfer to a serving plate making sure to pull some of the herbs towards the top.
4. Sprinkle with a few sprigs of mint and cilantro, a bit more toasted rice powder and chile powder. Herbs and shallots should not be cooked and soggy!
5. Serve with rice.
Courtesy of Andy Ricker from Pok Pok.
Originally featured in Andy Ricker's Pok Pok