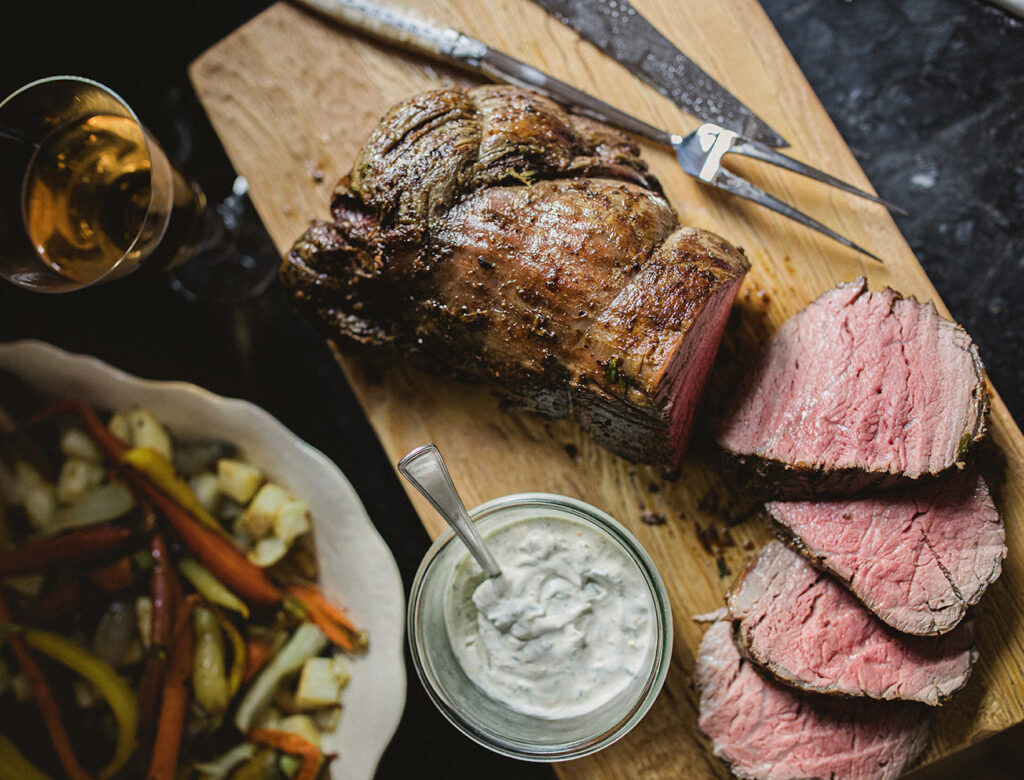 Photo courtesy of @jensosa
Herbed Beef Tenderloin and Citrus Crème Fraîche
"This festive holiday recipe is equally delicious served warm or at room temperature, and it's the perfect dish to make ahead. I especially love the zippy horseradish crème fraîche with the earthy vegetables and the tender cut of beef." —Muniak
1. Preheat the oven to 275°F. Tie the tenderloin off with kitchen twine (the butcher will do this for you by request).
2. Make a paste from the garlic with a mortar and pestle or smash with the back of a knife and place in a small bowl. Finely chop the herbs into the garlic paste; add the cumin, sea salt, and freshly cracked pepper; and combine. Then mix in the olive oil. Slather the beef tenderloin with the garlic-and-herb paste, and allow the beef to rest at room temperature for at least 20 minutes. You can marinate the beef for up to 8 hours.
3. Sear all sides of the beef in a pan (I like to use a cast-iron skillet) on the stove top to seal in the flavor and juices. Once browned on all sides (about 2 to 3 minutes per side), transfer the tenderloin to the oven and roast for 25 to 40 minutes. Pull the beef out when the meat thermometer reads 120°F (I check it at 25 minutes).
4. While the beef is cooking, make the horseradish crème fraîche. Place the crème fraîche and horseradish in a small bowl, whisk in the orange and lemon zest, and season with salt and freshly cracked pepper. Store in the fridge until ready to serve. This can be made up to 8 hours in advance.
5. Allow the beef to rest for 10 to 15 minutes before slicing and serve with the horseradish crème fraîche.
Originally featured in A Chef's Predinner Strategy, from Appetizers to an Easy Beauty Routine