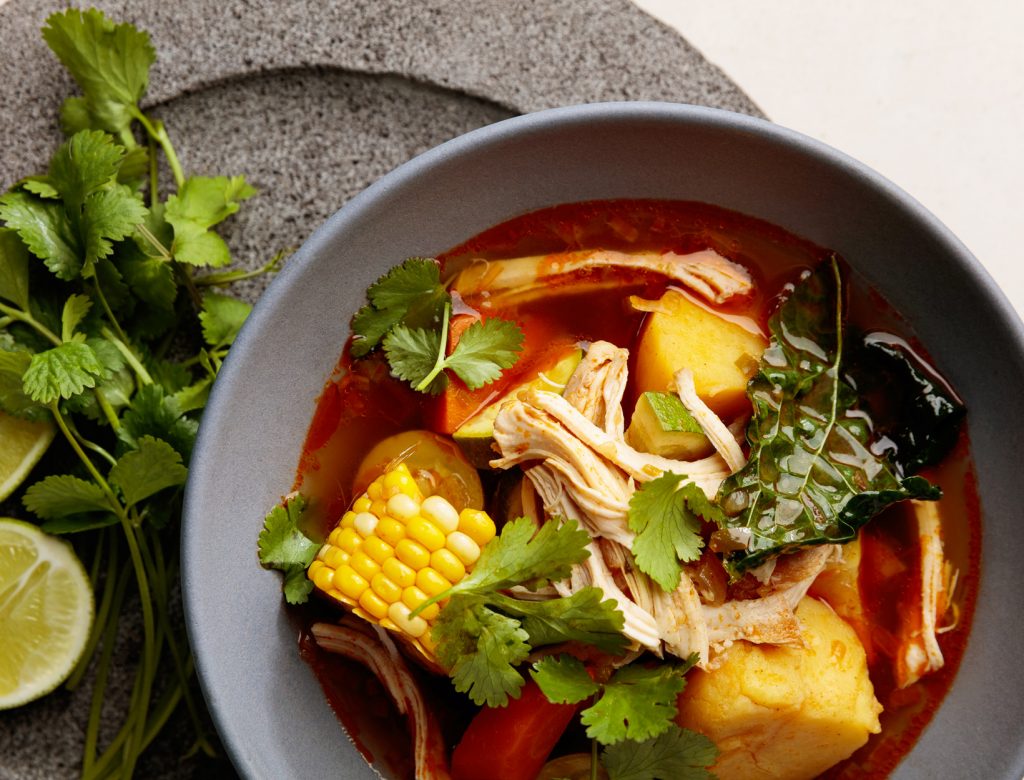 Hearty Chicken Sofrito Stew
This soup is a riff on sancocho, a staple soup in many Latin American cuisines. There are countless versions of it—ours is on the lighter side and packed with some extra greens, but it still has that super flavorful sofrito base.
1. Season the chicken generously with salt. Heat the oil in a Dutch oven over medium-high heat. Add the chicken, skin side down, and cook until browned, a few minutes on each side.
2. Remove the chicken, reduce the heat slightly, and add the onion, bell pepper, jalapeño, and garlic. Cook for about 10 minutes, until softened and beginning to caramelize. Add the cilantro stems and tomato paste and cook for another couple of minutes. Add the chicken back in, along with the chicken stock, potatoes, and carrots. Cook for about 1 to 1½ hours. Season and salt to taste.
3. Remove the chicken pieces from the soup, discard the skin and bones, and shred the chicken into bite-size pieces.
4. Ten minutes before serving, add the zucchini, corn, kale, and shredded chicken to the soup. To serve, ladle into bowls and top with fresh cilantro and a squeeze of lime
Originally featured in Chicken Soup: 4 Comfort-Food Versions from Around the World