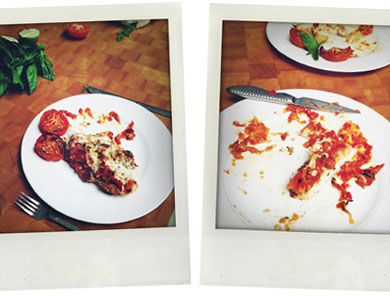 Without breading or frying, this still has all the taste a good chicken parm should.
1. For the chicken: Place chicken breast between parchment paper and pound with a mallet until about 1/4 of an inch thin. Rub with olive oil and season with salt and pepper on both sides. Fire up a grill (or a grill pan) over medium high heat (the grill adds nice flavor.) Cook the chicken for about 4 minutes on each side. Transfer to a baking dish.
2. For the sauce: Heat lug of olive oil and 1 1/2 teaspoon minced garlic in pan over medium heat. Cook for about a minute until the garlic softens and becomes fragrant. Add strained roasted tomatoes, turn heat down and cook on low for about 10 minutes, until the sauce is infused.
3. Grate a dusting of parmesan cheese over the cooked chicken breast. Top with a thick layer of the tomato sauce. Add the basil and another dusting of parm. Top with 2-4 slices of fresh mozzarella (enough to cover) and another dusting of parm. Place under the broiler until golden brown.
Originally featured in Summer Tomato Recipes