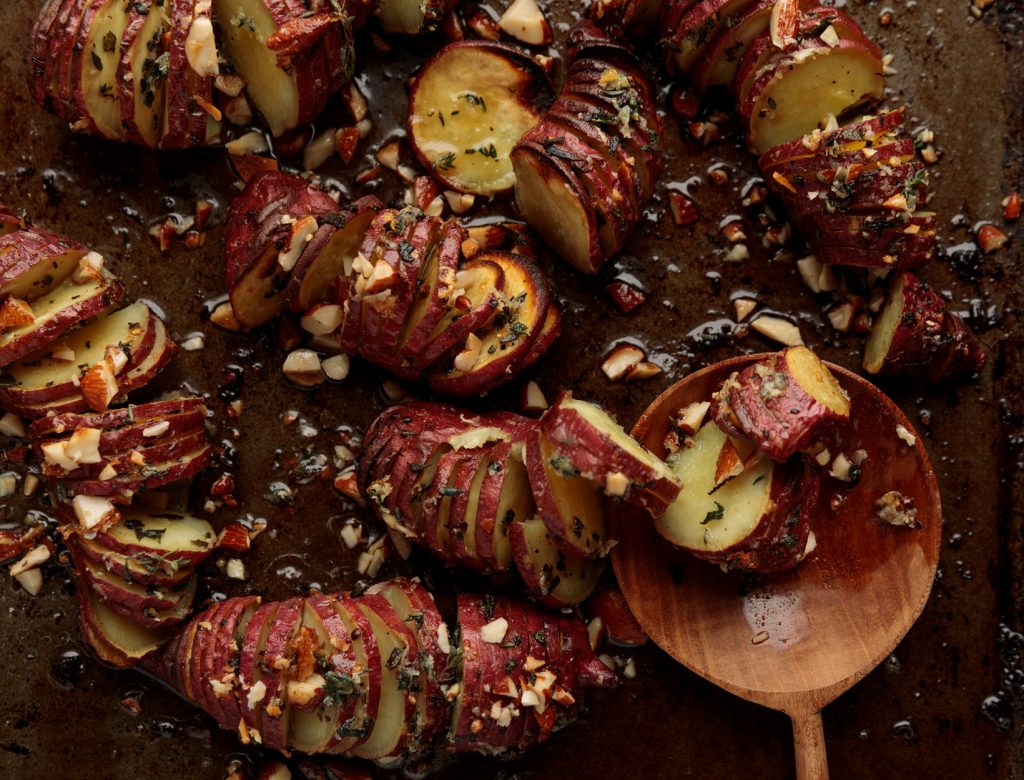 Hasselback Sweet Potatoes with Almonds
This sweet potato update on the classic Hasselback potato recipe has delightfully sweet and savory flavors. Maple, garlic, thyme, black pepper, and toasted almonds combine to make a dish that's supremely, addictively satisfying.
1. Preheat the oven to 425°F.
2. Line a baking sheet with parchment paper.
3. Make a series of ⅛-inch slices along each potato, slicing two thirds of the way through.
4. In a small bowl, stir together the butter, 2 tablespoons olive oil, thyme, garlic, sage, ½ teaspoon salt, and ½ teaspoon black pepper. Rub the potatoes all over with the mixture, getting in between the slices.
5. Place on the baking sheet and roast until the potatoes are tender at the center and crisp on the outside, 50 minutes to 1 hour; 10 minutes before they are finished, pull them out and brush with 2 tablespoons maple syrup.
6. Meanwhile, in a medium saucepan, heat 2 tablespoons olive oil and add the almonds. Leave for 2 minutes, or until they start to brown and get fragrant. Use a spatula to stir for 3 to 5 minutes, until they start to brown in color. Add the remaining maple syrup, salt, and pepper to the toasted almonds. Remove from heat and let cool.
7. Top each sweet potato with the toasted-almond mixture.