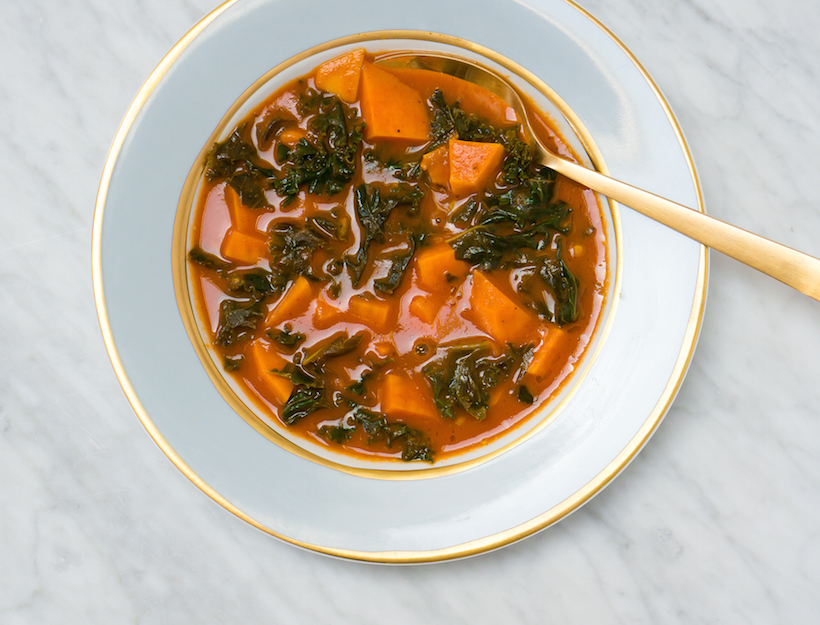 Harissa-Spiced Sweet Potato Soup and Kale
I became addicted to harissa when I was traveling in North Africa, and now, the exotic spice blend is beginning to grow popular in the United States. While recipes for it vary, it typically contains a mix of spicy peppers, cumin, and a variety of other spices—often ones that are hard to come by and expensive to prepare. Here, I capture the essence of harissa with dried spices you can find at any grocery store. You'll also saute the tomato paste in your pot until it turns a rich brown color and becomes infused with an umami flavor that adds depth and richness to this soup. Beyond that, it's filled with prebiotic, fiber-rich sweet potatoes to nourish your gut and superstar kale to give your cells the food they need. Lycopene, a potent antioxidant, is more bioavailable in cooked tomatoes and floods your body with anti-inflammatory goodness.
1. In a large pot, toast spices over medium heat until fragrant, about 2 minutes.
2. Add tomato paste and mix into spices; cook over medium heat for another minute before adding vegetable broth, salt, and coconut milk.
3. Bring to boil, then add sweet potato chunks. Reduce heat to low and cover. Let simmer for 15 minutes.
4. Turn off heat and add garlic and kale. Cover and let sit 10 minutes before serving (this will allow the kale to wilt and the garlic flavor to mellow, without losing any of its health properties).
Originally featured in A Quick, Three-Day Summer Detox