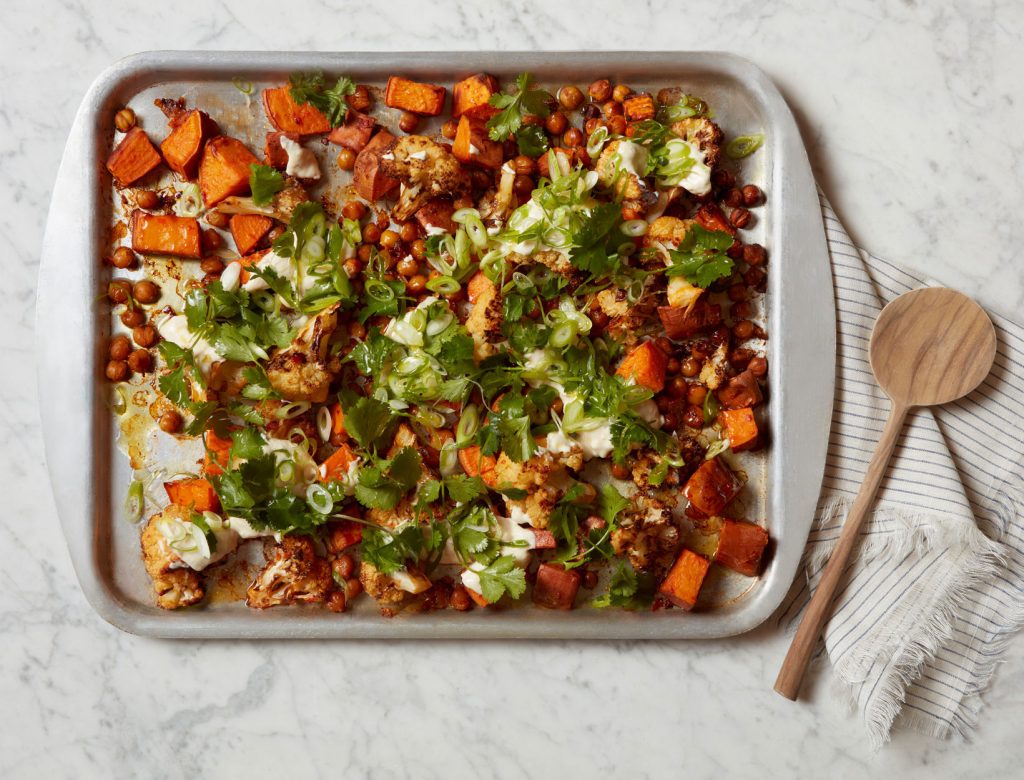 Harissa-Roasted Vegetables and Chickpeas with Tahini Yogurt
Crispy chickpeas, creamy sweet potato, and perfectly charred cauliflower, all tossed in a garlicky harissa paste and finished with a drizzle of cool tahini yogurt. Yum. This makes a super satisfying vegetarian meal on its own, but we also love to serve it as a side dish with simply grilled chicken or fish.
1. Preheat the oven to 400°F.
2. Combine the harissa paste, olive oil, and salt in a large mixing bowl. Add the cauliflower, sweet potatoes, and chickpeas, and mix with your hands until everything is very well coated.
3. Transfer to a rimmed (18×13-inch) half sheet pan and roast in the oven for 45 minutes.
4. While the veggies cook, make your tahini yogurt sauce. Whisk together the yogurt, tahini, garlic, and lemon juice, and season to taste with salt. Thin with water as needed to reach your desired consistency.
5. When the timer goes, remove the sheet pan from the oven and sprinkle the veggies with a little flaky salt. Drizzle or dollop on your yogurt tahini sauce and garnish with sliced scallions and cilantro leaves.
Originally featured in The New One-Pot Meal Happens in a Pan