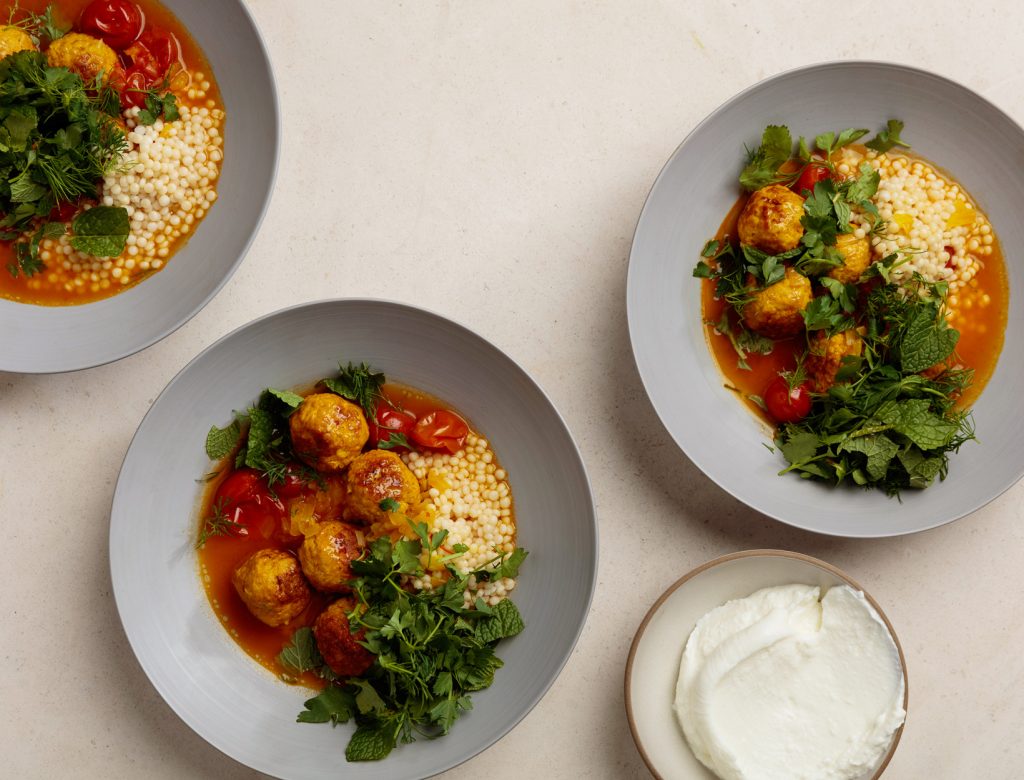 This soup is super hearty, and the harissa and saffron give it such deep flavor. It's also adaptable—equally delicious over couscous, basmati rice, or quinoa.
1. Combine all the meatball ingredients with a generous pinch of salt. Roll the mixture into small balls, about 1 inch in diameter. When you're almost done rolling, start preheating your Dutch oven over a medium-high flame. Add the oil, then add the meatballs in batches to avoid crowding, and cook to get a nice brown sear.
2. After the meatballs are done, add the diced onion to the pot, stirring to scrape up all the browned bits left behind by the meatballs. Add another pinch of salt, plus the turmeric and saffron, and let sweat for 5 to 10 minutes over medium-low heat, until the onions are tender and translucent and the spices are fragrant.
3. Add the harissa, canned tomatoes, and stock and stir to combine. Turn the heat up to bring to a boil, add the meatballs back in, and let the soup cook for another 30 minutes at a strong simmer, until slightly reduced. Salt to taste and serve.
4. Serve the soup over couscous, rice, or quinoa, and garnish with lots of fresh herbs, lemon juice, and a dollop of Greek yogurt.
Originally featured in Chicken Soup: 4 Comfort-Food Versions from Around the World