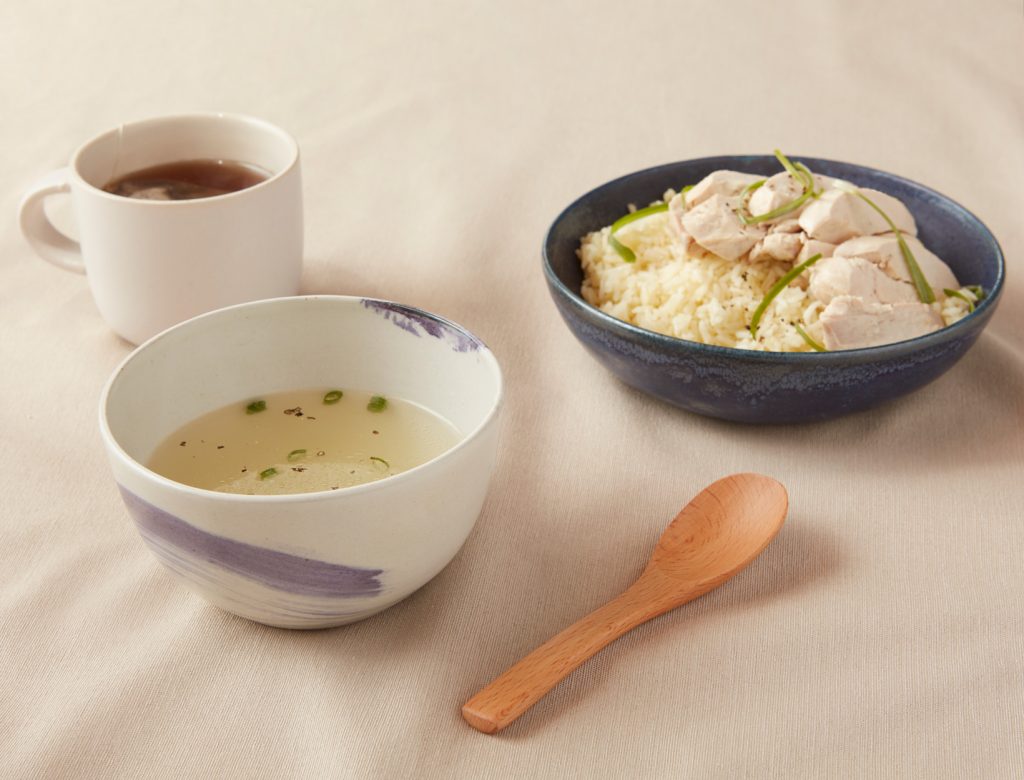 All we ever want when we're sick is chicken and rice, and this dish fits the bill. It's comforting and flavorful, not to mention its packed with immunity boosting ingredients: you've got ginger which has anti-inflammatory properties and soothes an upset stomach, plus, garlic, which has a naturally occurring anti-viral compound called allicin.
1. Combine the first four ingredients in a medium saucepan. Cover them with 1 ½ liters of cold water. Turn the heat on low and let gently come to a simmer. It should take about 15 or so minutes to cook; when done, pull from the broth.
2. While the chicken simmers, rinse the rice through a sieve a few times until the water is less cloudy, then let it soak in a bowl of cold water for 15 minutes.
3. In a small saucepan heat the oil over medium heat. Sauté the garlic and ginger for about a minute, or until fragrant. Drain the rice and add it to the garlic ginger mixture, and cook for another 3-5 minutes. Take 1 ½ cups of broth from poaching the chicken and add it to the rice. Bring to a boil, then reduce and cover. It should only take about 15 minutes since the rice was soaked. Let stand for 5 minutes, and fluff with a fork.
4. Remove the skin and bones from the chicken breast and cut into medallions. Lay down a bed of the ginger garlic rice, top with the chicken, and spoon over some of the warm poaching liquid. Fill a small bowl with more of the poaching liquid and serve on the side, garnished with sliced scallions.