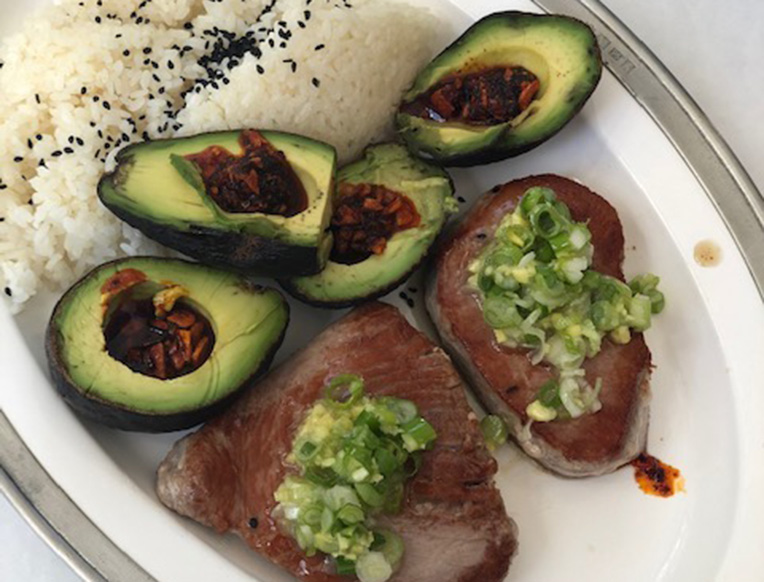 DIY dinner menus like these poke bowls are a hit because everyone gets to make theirs just how they like it. While it does have a lot of components, everything comes together quickly and a few of the fixings can even be store-bought (crispy shallots, Sriracha vegenaise). The MVP among them is definitely the Japanese Chili Crisp—it adds texture and incredible flavor. GP said she'd eat it on plain white rice and be very happy.
1. Heat a heavy-bottomed skillet for a few minutes over high heat. Rub the tuna fillets with the neutral oil and season with a generous pinch of salt. Add the tuna to the skillet and sear for about 3 minutes each side. It should be medium (a little pink) on the inside. If you prefer your tuna rare, cook it for just 2 minutes on each side; if you want it more well-done, give it up to 4 minutes on each side. Let it rest for 3 to 5 minutes before slicing.
2. While the tuna rests, combine all the ingredients for the ginger-scallion sauce.
3. To serve, plate all the fixings—tuna, rice, avocados, Sriracha vegenaise, ginger-scallion sauce, Japanese chili crisp, cucumber salad, furikake, pickled ginger, and crispy shallots—and let everyone build their own bowls.
---
We hope you enjoy the product recommended here. Our goal is to suggest only things we love and think you might, as well. We also like transparency, so, full disclosure: We may collect a share of sales or other compensation if you purchase through the external links on this page.
Originally featured in The Meals Gwyneth Is Cooking Right Now